Highlights of the 2017 New England Auto Show
After completing the 15 minute ordeal that is parking at the Boston Convention and Exhibition Center, my family and I made our way around the striking and enormous structure to the lower level entrance. Just outside, groups of potential buyers waited in line for their turn to testdrive a new Toyota or Chevrolet for one lap around the expo center. Because we had purchased our tickets the day before, we managed to avoid waiting in a massive line at the ticket box office. We each then quickly submitted our tickets to the gate attendant and had our hands stamped before passing through the door and into the huge brightly light main floor. This is where all of the automakers rent out space to display and market their vehicles to the attending public. It is a festival of automotive marketing, from the obvious commercials playing on TVs of some makes, to subtle things, like having softer carpet in one brand's display than the ones around it, all in the hopes of making a positive impression to attract potential customers without the pressure to buy or lease a vehicle that often comes with dealers.
The Boston Auto Show is held annually in January at the aforementioned Boston Convention and Exhibition Center, this year from the 12th to the 16th. It is the largest event of its type in New England, though is comparatively tiny when viewed alongside many other auto shows around the country and the world. As such, it historically has not featured many brand new, recently unveiled cars. This year, however, I noticed this trend began to change. Not only were there several truly all new cars, many of these featured state of the art alternative fuel and self driving technologies.
One such vehicle was the Chevrolet Bolt, a new all electric vehicle with a claimed range of 238 miles on a full charge and a starting price of just under $30,000 after government reimbursements. Probably the most popular and eagerly awaited vehicle at the show, there was constantly a large crowd of people standing around it, taking pictures and waiting to sit in the interior. Chevrolet was clearly quite proud of their creation, as it was situated right in the center of their display, slightly elevated above the rest of their offerings, with the lights gleaming off of its striking and rather polarizing, "orange burst" paint.
"I didn't like the color," explained my mother, of the car's orange juice colored body panels. She had no further comment on the vehicle. In truth, if it were not for the electric drivetrain, it would be an unremarkable little hatchback, with its interior of hard plastic and it's rather uninteresting exterior styling. It does mark an important milestone for the auto industry though for its technology, practicality, and relatively low entry price.
On the other end of the spectrum was Hyundai's new Genesis luxury brand, which I found to be the most surprising thing at the whole show. Hyundai has been selling the Genesis luxury sedan as a model since 2008 and it was largely overlooked because of Hyundai's reputation as a maker of affordable entry level cars. When the second generation Genesis came out in 2015, I appreciated it for it's new elegant exterior design, but still did not pay much attention to it. That was until I learned in the middle of last year that Genesis would be launched as a standalone luxury brand for 2017. This got my attention and piqued my interest for the brand at the auto show.
"It was amazing," according to my mom on the new g90's cabin. I to can say with confidence that I was blown away by both of the brand's cars, the large g80, and the very large g90. Both featured quiet interiors constructed of high quality materials, very comfortable and soft leather seats, and tasteful real wood and metal accents, completely on the same level as any Lexus or Audi they are competing with.
The biggest disappointment of the show was provided by the Porsche display. It was full of false promises, with its soft carpets on the floor and its pleasant lack of any velvet ropes around its vehicles to entice the public to come over and sit in the well appointed cabin of a sports car, only to deny them by having the doors locked. The same thing happened last year, but visitors were invited to sit inside the cars two years ago, so I was hoping for a return to that. In truth though, it did not really detract from the rest of the event.
This brings me onto my favorite car of the auto show, which was the new Volvo S90. It was my first time seeing on in person and up close it is a very elegant and minimalistic design, which is refreshing given the industry's recent trends toward adding curves and creases all over the bodywork.
My dad was not entirely convinced of the Volvo's styling. "It's kind of boxy," he explained, which it is slightly, but I believe that is part of its charm. The interior is where the car really impressed though, with its tasteful use of unfinished walnut trim, beautiful machined metal knobs and switches, and some of the most comfortable seats in any car, swathed in super soft leather. It is also one of the safest cars on the road, and it has some seriously advanced technology that, in some environments, allows it to pretty much drive itself up to 80 miles per hour, if you're so inclined.
Overall, I think this was the most impressive Boston Auto Show I've been to over the last six years thanks to its wider than ever variety of new and interesting vehicles.
About the Writer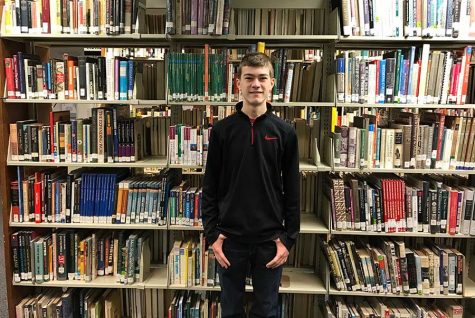 Colin Mower, Contributing Writer
Colin is a Senior at GHS. His favorite class this year is Physics. He is also a member of the GHS band, where he plays alto sax.  Outside of school he...