The Man, The Myth, The Legend: Mitchell Scacchi
Imagine this: you are involved in five clubs in your school, all running year round, you take four AP classes (not to mention you're a senior), you're trying to maintain being in the top ten of your class, and you play a sport that takes up your fall and spring. This is the life of one GHS senior, Mitchell Scacchi.
When asked about the activities, clubs and sports he participates in at GHS, Mitch replied, "Class council, Student Council, I would separate those as two different clubs, Ripple Effect (a leadership club). I do National Honors Society, Goffstown Outstanding Athletic Leadership." Not to mention that he is also the president of four of these clubs! Mitch also participates in Youth Forum, along with his father.
Known to be in the top of his class, Mitchell is currently enrolled in four AP classes. "It's been way better compared to last year. "I would say it's rigorous but I'd say I've been able to do a better job at managing it. I have four AP classes: AP Spanish, Calc, Statistics and Physics, and I'd say that they're all classes that I'm very interested in which helps make the course work less rigorous and easier to manage and just easier to do faster, so I'd say it's been a pretty good year as far as that's concerned". With these type of classes, it's a no-brainer that Mitchell is looking to go to a good college. "Maybe Ivy League. I've been looking at Williams College and Bowdoin College, those are probably my top two. Cornell would be my top Ivy League."
Mitchell is also a skilled pitcher in baseball, and had some great success last season, helping the Boys Varsity team go deep into playoffs. "They're both Division Three for baseball so I'm trying to see if I can play baseball for Williams. Just recently I sent over all my academic information, and then with Bowdoin I have not spoken to the coach yet, so if I were to go there I'd be a walk-on." It's surprising, to me at least, that someone like Mitch can deal with everything going on, and still manage to be calm cool and collective on the mound. "I would say it's kinda like a sanction, I mean it depends on the game and it depends on what situation I'm in. But most of the time I'm calm and most of the time I'm in control of the game. If runners get on or it's a tight situation and it's late in the game and we're losing or winning by a couple runs and the other team could pull ahead I'd say it's stressful, but I think I do a good job of keeping myself composed and not letting it get to me, not letting it affect what I want to do in that situation."
Despite doing all of these things, Mitchell still has time to hang out with friends and have fun outside of school. "Every weekend I try to hang out with friends. Whether it's going out to dinner, hanging out at a house, going to the movies, doing things like that, I try to do that as much as I can. Usually my time off is when I eat dinner, that's my time off. I eat dinner and watch TV." One cannot even comprehend the amount of stress and pressure Mitch is under on a daily basis, trying to balance everything he has going on in life. He jokes that "To say that I cope [with stress] would be a lie. But, I do a good job. As cliché as it sounds, I think that getting good sleep makes it easier. Like if I only get six hours of sleep I'll be a mess the next day and everything will be horrible. But if I at least get eight, it does make a world's difference."
Mitchell also constantly uses his agenda. "I would say my agenda book, and keeping reminders on my phone too, and checking stuff off, making sure I've labeled out 'what are my priorities', and I've gotten those things done first before I move on. I'd say getting organized is something I prioritize."
Hannah Tate, another top-class student that is heavily involved in extracurriculars, had a few things to say about Mitch. "Mitchell is a great student and friend… I've never seen him put less than 110% into whatever he's doing, and everyone looks up to him to better themselves."
About the Writer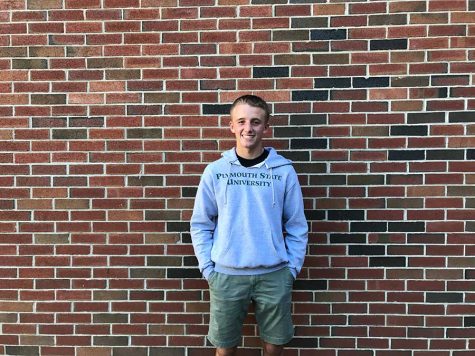 Jac St. Jean, Staff Writer
Jac is a senior at GHS. He is well-known for his wrestling as a D2 State Champ, and an MOC Champ.  Jac wrestles year-round at Doughboy Wrestling Club...