Grant Jacob: A 14 Year Old Blackbelt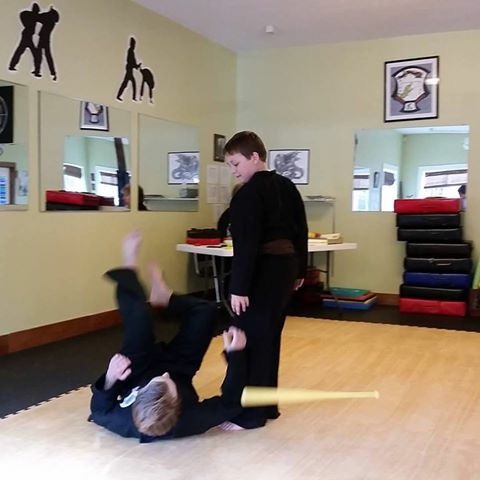 Grant walks through the garage door into his home in New Boston. His day at school was alright, but there is some homework to complete. Two golden retrievers greet Grant at the door and whine to go outside to play. Grant unlocks the door to let the two of them wrestle in the yard. He kicks off his shoes, shakes off his backpack and plops down on the couch. He knows he will have only a small amount of time to relax; Dad will be home soon to bring him to karate.
It was a routine for him. Three times a week. He comes home from school, drops his backpack on the dining room table, slips his shoes off and sits on the couch. Before he is picked up by his father, he disappears into his room. He comes out wearing his gi, the karate uniform used in classes, and gets his shoes back on. Before he heads out the door, he wraps his black belt around his waist. He has worked for years toward getting this belt. He opens the garage door and greets his father who is waiting in the driveway. He hops in the passenger seat of his father's big black Ford F-350 and fastens his seat belt. His father usually asks him how his day went at school that day and they talk back and forth for the 15 minute car ride to Amherst Karate Studios.
"I started karate in second grade," says Grant Jacob. Grant is only 14, but he knows what he wants. He decided a couple of months ago to discontinue with karate and switch to ju-jitsu. "I felt like I needed a change, so I decided to try ju-jitsu," Grant says. He is in 8th grade; the top of the food chain at Mountain View Middle School. He enjoys spending time with friends at school, French class and science class. Grant is also involved in the Boy Scout community. He likes to play collaborative video games with his friends on his computer or PS4 with his free time. When asked which game he enjoys the most, he replies, "Well, I really like playing Destiny because I can play with my friends a lot. It's funny when we all have our headsets on so we can yell at each other."
Being 14 years old and a black belt in karate is an accomplishment. Grant says he is grateful for the opportunities given to him during the six years of practicing karate, and he is excited to pursue his new passion.