Scholastic Art Awards 2018: a view from the inside
As I entered the room, a burst of vivid color instantly hit me. Several paintbrushes spread all over the carpet, the unmistakable smell of wet paint in the air, a colorful canvas standing by one of the large windows. Sophia Harkins, senior at Goffstown High School, is kneeling in front of it, putting the finishing touches to her latest art work for her painting class. She is now in her natural habitat, where she devised and created the pieces that led her to this year's Scholastic Art Awards.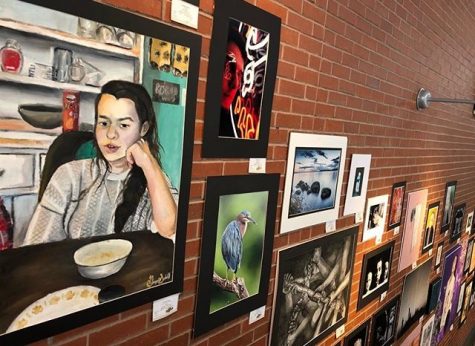 The Scholastic Art Awards is a nationwide artistic competition that has been administered by the Alliance for Young Artists & Writers since 1994. Teens in grades 7 to 12 apply in twenty nine categories of art and writing; submissions are juried by luminaries in the visual and literary arts, some of whom are past award recipients. Panelists look for works that best manifest creativity, technical skill, and the emergence of a personal voice or vision. Students receiving Gold Keys, Silver Keys, Honorable Mentions, or American Visions & Voices Nominations are celebrated within their communities through local exhibitions and ceremonies.
"Here at Goffstown High School" Sophia explained, "each participant submits some of their pieces that the art teachers have chosen for them. Afterwards, around January, three selected judges go through all of our works. Essentially, if one judge passes your piece, you earn a Honorable Mention; if two judges approve it, you get a Silver Key; if all of them passes it, you obtain a Gold Key".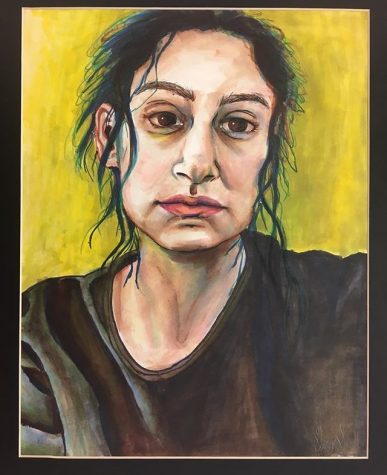 After about one month, the Scholastic Art Awards contestants get the results and find out about the outcome of the competition. In New Hampshire, all the art pieces are put up on the hallways of Pinkerton Academy, in Derry, where the award ceremony is later held.
This year, our school turned out to be pretty successful in the competition.  "The person who had the greatest recognition was my friend Georgia Schill (sophomore at GHS). She used to attend an art school and this is her first year at Goffstown. Georgia got a National Award and was nominated "Best-of-Show" for her piece "Insomnia", which will allow her to go to Carnegie Hall in New York City". Sophia added: "The only other person from our school who got "Best-of-Show" is Genevieve laPointe (junior at GHS). It took her so long to finish her piece, which was actually our opening assignment for Studio class. It was a lamp coming out of the floor and Genevieve handed it in way after the deadline, but you can tell she spent a lot of hard work and effort on it just by looking at it. It's really amazing".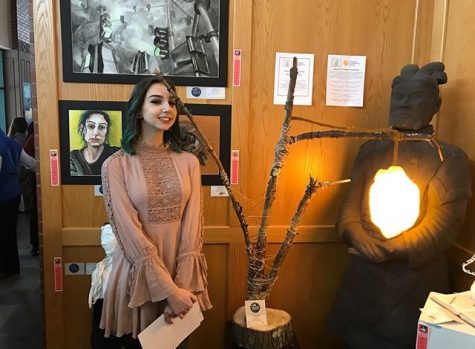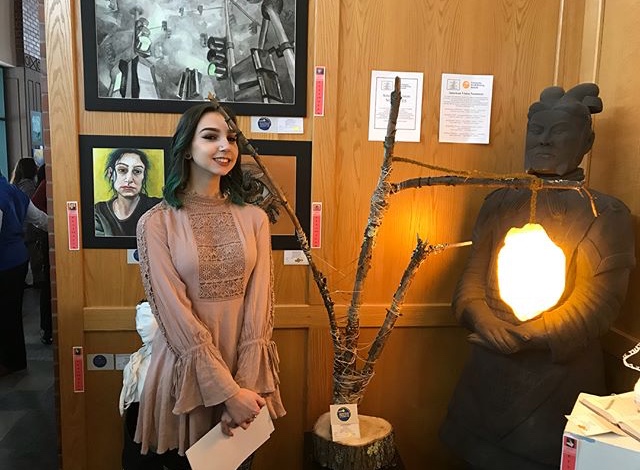 The art teachers at Goffstown High always have a huge impact on the Scholastic Art Awards. Mrs. Lane, Mrs. Karolian, Mr. Martin, and Ms. Nichols help the future contestants in the realization of their works, direct them in t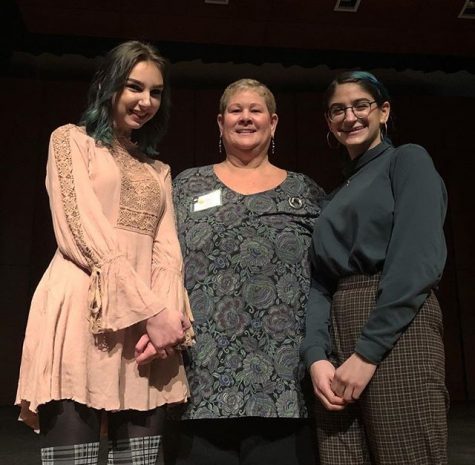 he choice of the pieces to submit, and celebrate their students' achievements at the end of the whole process. "None of this would be possible without them, watching over us like guardian angels", Sophia joked.
But when they are home, without the support of their mentors, students have their own personal process of making art. I asked Sophia to describe to me how this procedure works for her. "It can be different from time to time. There are days when your inspiration is through the roof and other days when you just can't come up with anything. One day, to give you an example, I was sitting here in my room and I was probably watching something on YouTube. At one point, I got distracted and stopped watching, so my computer screen turned black. My reflection on the screen made me think: 'I'm going to do the quickest self-portrait ever!' It took me overall five minutes to finish the piece, and it turned out to be just right.". As a matter of fact, she got a Silver Key on it. "When it comes to making art, you just have to take the chance and make the most of your moments of inspiration".