More Than Just a March
How students across the nation are fighting to change the way school safety is handled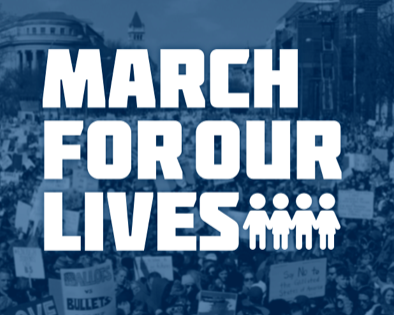 It was a sunny day, with tufts of clouds peppering the blue Florida sky. Birds were singing, and it was a peaceful February day at Marjory Stoneman Douglas high school, until a piercing shot echoed across the campus, many more to follow. The next six minutes or so changed the lives of nearly every student across the United States. The tragic shooting of Valentine's Day, 2018, has sparked a nationwide "uprising" of sorts–including the successful March For Our Lives that occurred March 24 of this year– that has caused students to wonder…are they next? Gun violence in schools has been a growing epidemic, but could the students of Parkland have started the long-awaited end to an idle society and youth on this issue?
March For Our Lives, headed by the survivors of the Parkland shooting, worked like a magnet, drawing in huge crowds nationwide. Allison Buckless, a senior at Goffstown High School, participated in the Concord MFOL, and reflects on her positive experience there. "Adults at the march kept pushing us towards the front and one told me 'this is not our march, it's   yours,' " The movement has inspired students to step up and speak their minds, and for Allison, it was clear that she wanted to be part of it. "I'm a strong believer in saying that our generation will change the world; this is was the first step. I also thought it was necessary to participate so we could show that it is the students who are confronting the government and who want change." Positive outlooks towards the future of the American youth are what fuels movements such as March For Our Lives.
Though it is uplifting to see so many students fighting the system and challenging the laws that are apparently not enough to keep us safe any longer, it is important to remember what brought students to this unified place of awareness and motivation to change the way things are. "I first heard about the Parkland shooting hours after it happened. I was not alerted right away because I was in the middle for Crazy For You rehearsal. When I got home my dad told me and I remember being…I want to say scared but more worried." Allison had already decided that she wanted to protest in November–several months before this particular shooting occurred, "I was already advocating for school safety. I had the opportunity to protest and be around people who agree with me so I went for it."
However incredible this 'revolution' is and has been, many are asking the questions; 'what's next?' 'Where will this go?' 'Is it enough to make a difference? The answers are speculated by students, teachers, and parents alike nationwide. "Honestly, I really don't know what comes next–I was actually thinking about it the other day. We marched and rallied but now what?" And Allison is right. What more can the students do to ensure their safety? However, with the support of many celebrities such as Ellen Degeneres and Oprah Winfrey, the movement may continue on for as long as possible.
The movement has been headed by extremely strong survivors and advocates, perhaps most famously, Emma González, whose speeches at the March For Our Lives and just after the shooting have gone viral since. "Judging by people like Emma González, the Parkland students will not let this disappear." Hopefully not, since gun violence in schools is finally getting the attention it deserves. Allison remembers the audience at the Concord march chanting the popular phrase "enough is enough" over and over "which left goosebumps up and down my body" she recalls.
However controversial the subject of gun control and management may be at the moment, students have come together to promote an overarching theme of school safety.
Allison is hopeful that change will occur, like so many students standing up for their beliefs. "Guns will never go away and I don't think we can control what people do with them. However, this generation will definitely change the world, in fact, we've already started. It's hard to tell if our efforts will pay off in terms of the government, but as far as the people, I know they're impressed."