Post Malone Has Released It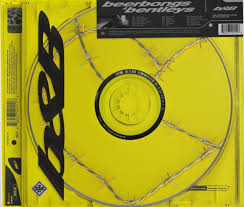 As many people know, Post Malone released his album Beerbongs and Bentleys on April 27, 2018. For a while, people had been speculating  Post Malone was going to drop the album. He had released songs like 'Rockstar' featuring 21 Savage and 'Candy Paint' previously. When the album first dropped, people were ecstatic and it became the top album and release overnight. It was trending on charts and people were going crazy talking about it. From the talk on social media and through Goffstown High School, it was almost all good news about the album. Some said that it was "like a story. You have to listen to what he's saying, it's not like every album that just puts songs on a track, it was more like he was writing for a purpose" says a GHS senior.
In 2015, Post Malone released his first hit ever, "White Iverson" and it became a huge track, trending on music databases and streaming on social media. It was even in memes and Vines, and on Youtube videos. It was the start to Post Malone's career success. The album Beerbongs and Bentleys, according to a customer at Zumiez while the album was playing, "better than Stoney", Post Malone's first album. While driving and hanging out with my friends, those who played it could also agree that it was one of the biggest albums yet. My closest and longest friend Amalia Plentzas, a junior at Goffstown who is graduating early, said that she loves the album. In the car, we are always playing the tracks like Better Now, Over Now, Same B*****s, and more. On the album, there are many top artist that are featured. This includes G Eazy, Swae Lee, 21 Savage, Ty Dolla Sign, Nicki Minaj, and YG. While there might internationally be controversy in other reviews, as far as what has been around here, the album has been a big hit amongst the people in Goffstown. There were some people online who could argue that they didn't like the album, but majority believes that it was a smash hit.