Another 10 Lives Claimed in Texas Mass Shooting
The Call for Action is Louder Than Ever as Another Act of Gun Violence Occurs in America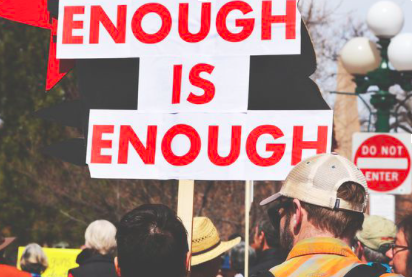 Yet again, our television screens have been blemished with the reports of another tragedy at the hands of a gunman. This time, it happened in an art classroom in Santa Fe, Texas. 10 students and a teacher were murdered this time, and it was 17-year old Dimitrios Pagourtzis who killed them.
Armed with a shotgun and pistol, he marched into the art classroom during first period, yelled "Surprise!" and started firing. Students were barricaded in a closet connecting two classrooms, using ceramic machines to block the door. On this tragic day, many lives were lost. Pagourtzis also is reported to have placed pressure cookers and a pipe bomb on campus. It is said that Dimitrios had targeted a girl that had previously rejected his inappropriate advances towards her. The shooter succeeded in killing her at the Santa Fe school.
These tragic shootings are starting to blur together, the numbers are staggering, with 23 school shootings according to CNN just in the first five months of the year. The American youth is becoming outraged. With politicians making claims that suggest change is coming, hope is definitely alive for a modified system, but we keep waiting…results are not being delivered.
What is it going to take? The students and teens can only do so much. We can't make the laws, we cannot change them, but we can use our voices. So many have already stepped up to make their opinions heard, but apparently, this battle isn't over yet.