In a Day's Work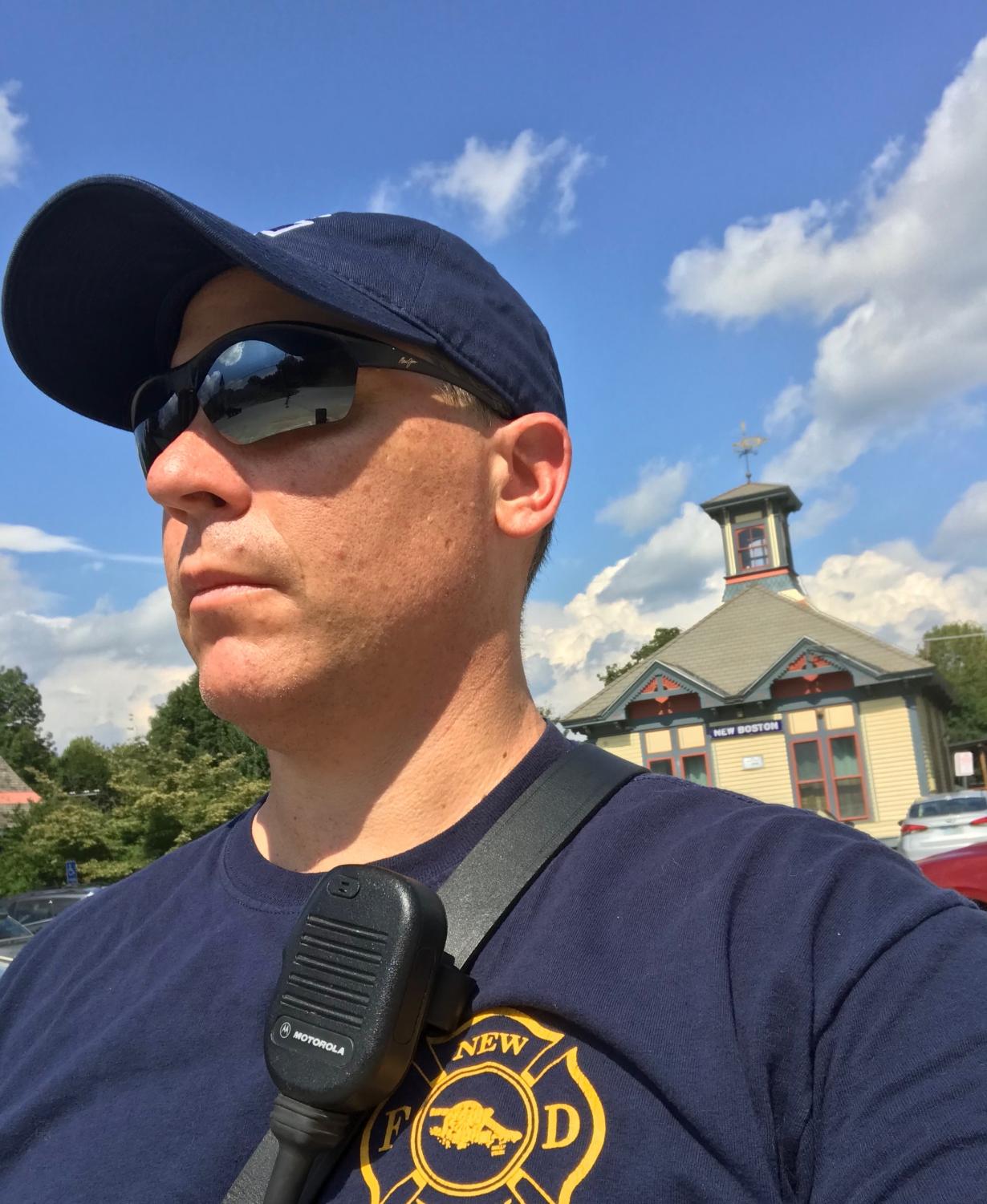 EMT (Emergency Medical Technician) working toward being an A-EMT (Advanced EMT). Vice President of National Sales at Fidelity. Head coach of son's hockey team. Yet, Ryan Charette still finds the time to obsess over his next trip to Disney World.
Ryan wakes up at before 5:00 in the morning. He checks on his three children, and lets out his three dogs. He heads to hockey practice or the gym. He will then use the car ride to the fire station to take work calls from Fidelity. He will work all day saving lives as an EMT, and using each break wisely to either study for one of his numerous classes, work on his next step of public service, or make his way through piles of work. He comes home with mere minutes to eat and talk with his wife before heading out with his son to coach his sport of the day, and returns home at just the right hour to have an intelligent debate with his teenage daughter before listening to his middle daughter practice for her next performance. He makes sure the dogs are fed and his wife, who recently underwent surgery is, settled. He sleeps only to relive his busy productive life the next day.
The owner of hundreds of varying degrees ranging from personal security to medical classes to leadership in the business, Ryan is the definition of doing it all, and yet  he still yearns for more.
"When I'm sitting down, I'm usually working", he says, explaining that he never usually relaxes. "I relax by working outside in the yard for hours, which should give you an insight into how nuts I am", he continues laughing.
He states that he balances his learning experiences in two ways: what his current interests happen to be, and what can be an asset to him in his next step in his career. Ryan has always had a passion for public service, and yearned to be in law enforcement, but life took him in another direction. "I've always wanted to do public service, and I love to help people. I'm also interested in medicine", Ryan, explains, elaborating on how being an Emergency Medical Technician is a perfect combination of both passions.
He met his wife Tracy in freshman year of high school, and they have been together ever since. Ryan built himself a career at Fidelity to support his three children and allow his wife to be a stay-at-home mom. Besides traveling to every inch of the country for work, he tries to spend all of his available time with his family. Free time, however, is a foreign concept to Ryan.
Although he graduated college in 1998 he still craves the taste of new knowledge and has since received two Master's degrees and three Graduate degrees. He has also taken fifty plus personal security classes, a hundred plus medical classes, and a hundred plus classes to help advance his credentials at Fidelity.
Although Ryan's job at Fidelity is time consuming, he decided this year to follow his passion for public service, and became an EMT at the New Boston Fire Department. He is now doing the 300 hours of studying to become an advanced EMT, and would consider taking the major step of being a paramedic in the future.
How does he manage all of this? He states that physical activity such as participating in hockey and karate, along with talking with his wife, can get him through a particularly difficult day.
"I have had the pleasure of knowing my wife since freshman year of high school. She has always supported me both professionally and personally." Ryan elaborates on how influential his wife is to his success and well-being.
Tracy, Ryan's wife of eighteen years enjoys their trips. With Ryan's exquisite planning skills, he can often compile an exciting vacation agenda. The couple has gone on numerous vacations including ones to Rome, Ireland, Nashville, and more. This doesn't include their trips to Disney World. "A vacation is almost not quite a vacation without a little Disney magic", explains his wife Tracy.
"Disney, in my mind, represents happiness. It represents wholesomeness." Ryan explains. He is part of the Disney Vacation Club, something that he prides himself on.
When asked how he balanced all of these activities so well, he chuckles that he simply doesn't. He does everything possible to always be productive and always uses his time off as additional time on.
Ryan's job at Fidelity has kept him more than busy for eighteen years. His job title of Vice President of National Sales, simply out, means that he leads a group of a hundred individuals to sell their managed solutions through about 3,000 advisors.
When asked what the most rewarding aspect of his day job his, he answers, "the people" and when asked what the most detrimental aspect of his job is, he chuckles, and facetiously replies "the people". "There are a lot of strong personalities" he notes, specifying how that fact can either be good or bad, "depending on the person.", he explains. "In all seriousness", he continues, "I have been very happy at Fidelity".
His part-time job as an Emergency Medical technician, is "a great fit" for Ryan, as he describes it. He very much enjoys the side job. He explains, however, that it can hardly be identified as a job because there's minimal pay that goes along with it, and it's mostly volunteer.
Although Ryan's life doesn't warrant much rest time, he is ultimately very happy with how it turned out. He doesn't have any regrets.
His two takeaways are that "people can usually accomplish a lot more than they think they can." True to his own advice, Ryan believes that he can accomplish much more. He also emphasized that "people should stop being so critical of themselves and appreciate all of the positives and negatives that make them an individual." Ryan's values of individuality are key to his success, a success that he believes anyone can achieve with a bit of passion, had work, and of course Disney magic.