When College Doesn't Go As Planned
All throughout high school, Sloane French considered herself to be a typical student. She always pushed herself academically, taking Honors and College level classes and participating in Dual Enrollment programs. Though she was a master procrastinator, Sloane always managed to get her work done on time, frequently completing her assignments in the early hours of the morning that they were due, and even with this hectic schedule, she still managed to earn high scores on her work. Her grades were well above average, an impressive feat for a student athlete, a member of clubs on campus, and the New Hampshire President of the Technology Student Association- a highly competitive academic decathlon association. During the fall of her senior year, Sloane began the college application process alongside all of her fellow classmates. College essays were written- draft after draft, the CommonApp was labored over-hour after hour, and the financial aid application was completed- error after error. The process was protracted and arduous and the relief that Sloane felt upon sending them off to colleges was immense. Sloane remembers feeling uncertain with her application, knowing that she was a strong student, but still feeling that she may not have all that it takes to get into her selected schools. In the end, Sloane ended up getting accepted to many of the schools she had applied to, including her top school. Receiving that acceptance letter was all the affirmation she needed- her hard work had finally paid off.
Come September of 2018, Sloane was packing up her belongings, readying herself to move into her new home, Endicott College in Massachusetts. All throughout the summer, Sloane and her new roommate spent time getting to know one another, meeting up, and planning out a theme for their dorm. And then came the news: Endicott had refused to waive one of Sloane's healthcare fees. The aid she had received from the school, scholarships and FAFSA would no longer be enough. Two days prior to her intended move in date, Sloane had to withdraw from Endicott. Sloane was devastated, left with no college to go to, no plan and absolutely no idea what she was going to do. She felt as though she had somehow failed because she was unable to do what all high school graduates are expected to do. Her "dad just kept apologizing that he wouldn't be able to pay for school like he promised," but it was of no consolation, she still had no idea what she was supposed to do with her life.
Instead of letting this defeat her, Sloane "cried for a few days" before she sprung into action, searching for something meaningful to do with her newfound abundance of time. Thinking of people she knew who didn't attend college right away, she was lead to look for volunteer opportunities. Her searches found her Volunteer World where she found a medical volunteering trip with no experience required as the organizations are just searching for kind hearted people who are willing to work hard to make the lives of other people better and healthier. Sloane had considered the possibility of becoming a medical professional, so this position was a perfect match for her. The organization that Sloane is traveling with is called Dream Africa Care Foundation. She will leave in mid October to spend ten weeks in Ghana. There, she will be spending her days in a hospital, clinic, and orphanage, providing basic medical care and educating the people of the area about sanitation, hygiene, and vaccinations.
When Sloane first had to pull out of college, she was absolutely devastated. But this event which seemed at the time to be a tragedy has provided her with so many new opportunities. Now, instead of sitting in a classroom furiously scribbling notes about the history of the United States for the hundredth time, she is packing up a large backpack to move overseas to make a real difference. She has been given the opportunity to touch the lives of so many people who are less fortunate than herself. In Ghana, she will experience an entirely new culture and way of life. This semester that she is taking off will allow her to deepen her understanding of cultural diversity and also deepen her understanding of herself. Sloane now has the time to discover what she wants to do for a career. This semester will allow her to clear her mind so that in the spring, when she starts college, she will be fully prepared and in a stress-free mental state. She believes it is more important for her to go on this trip than to go right to college, both for herself and for the people she will be helping in Ghana.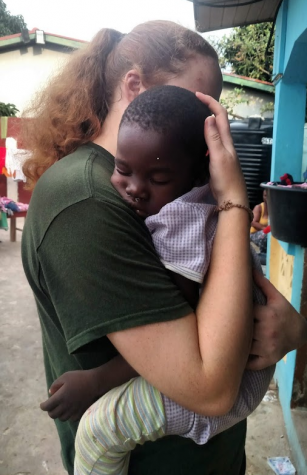 The advice Sloane has for high school seniors who are going through the college application process and are unsure of what they want is to not let what everyone else is doing affect you. If you don't feel that attending college directly after high school is right for you, don't spend the money. "Don't let people corner you into going to school straight away because they think it is right for you. Don't spend money on school that you are uncomfortable with, community college or taking time off is okay! If you aren't ready, don't go. Come up with a Plan B. Or a Plan C. You have the time to figure it out because you have your whole life ahead of you."