Homecoming Heroes
From Great Defense to Stellar Sophomore Quarterback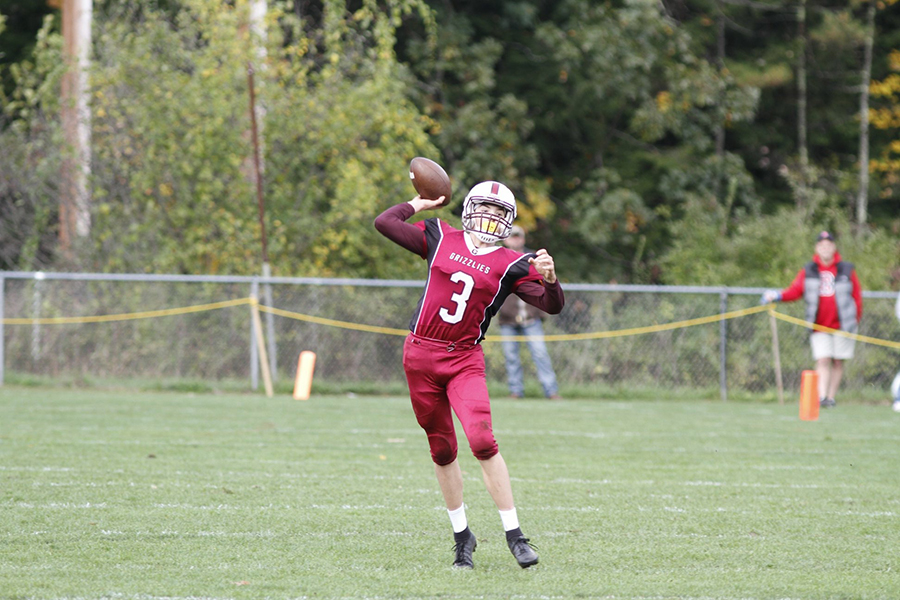 The Grizzlies win big in their homecoming game. The final score was 23-12. "In general, the backfield played well, and so did the defense, but the O[ffensive] line suffered a little bit. [The boys] were doing their jobs and handling adversity [well]", Charles Keith, the stand-out senior quarterback stated. The game was back at home, in the back fields of the school. Fans started piling up around one o'clock. The game time was at one-thirty, but managers Emma Shanahan, Teghan Coyle, and all of the football players showed up at twelve-thirty to warm up.
Very early in the game, a few possessions into it, quarterback Charles Keith got hurt when a pass play was ran. He dropped back into the pocket, but no one was open downfield. The pressure was coming, so Keith tucked the ball under his arm, and took off running. Right in front of him, he saw an opposing player, breaking the tackle to gain more yards. He was still running when he was gang tackled by a group of opposing players. When this happened, one player dove at Keith's knee, hitting it right on the side. His kneecap popped out, and he sprained his ACL. Although it seemed that this game was over, Goffstown fans still had hope. The fans, lead by Justin Scott Kaminski, started multiple chants, like the infamous Goffstown chant, "yell maroon, yell white, GHS, yell fight!" Justin Kaminski said "I am a firm believer that G[offs]town has the best fans in New Hampshire. We're loud, proud, and positive. [Our fans] almost never do anything negative, just positive. Our fan energy is uncomparable." Emma believes that there is always pride in the Goffstown fans, and parents and locals always show up. After Charles got injured, sophomore quarterback Jarrett Henault stepped up big, filling the shoes of Keith. Both Charlie and Emma said that Sean Leahy really stood out, and Justin said that Henault played really well, as he was thoroughly impressed with him. Another player Emma Shanahan said who stood out was Colby Putnam. "Colby always gives 100 percent, but doesn't get the ball much, and he showed up big."
At the beginning of the game, the boys had good energy, and they weren't cocky, yet very confident. In fact, manager Emma Shanahan said that "we should've won by more." "[The team] always has had good attitude, but it gets better everyday." Keith said. At the end of the game, the Goffstown crowd sang "Take Me Home, Country Roads", something that may become a ritual after every win.