Challenges Ahead
Erin Trnka is a 22 year old self-described ticking time bomb. She had the pleasure of going to a Division 1 school for five years. She also went to the prestigious school, UMBC  (University of Maryland Baltimore County). Erin had an 80% ride to the college of her dreams for the sport that she loved: softball. Erin's family was pleased to see her happy, but unfortunately, her happiness didn't last long.
During a softball  practice, Erin dove for a ball that fell short and she tore her ACL. She was immediately put on an airplane home to New Hampshire and then was taken into surgery. According to Erin's mom, "her first surgery was very hard, and not what she expected because she was feeling good before the surgery but suffered lots of pain and lack of mobility after."
Erin quickly bounced back after several hard months of training to learn how to walk again. Once Erin was cleared, she went right back to college and resumed practices on the field. The family was so happy to see her thrive again until she hurt herself a second time during her Junior year of college. Erin thought to herself, this is it, the world is giving me a sign that I need to quit now. However she chose not to let those feelings stop her.  She went through physical therapy again and got herself back on the field once more! Due to Erin's injuries, the school let her come back for an additional year. After graduation, she was going to go back again for a sixth year, but she decided to stay home and focus on work, money and bills. "I had to balance softball with academics and being an adult. I had a lot of fun being independent from parents, but there was a lot of responsibilities that came with it."
About the Writer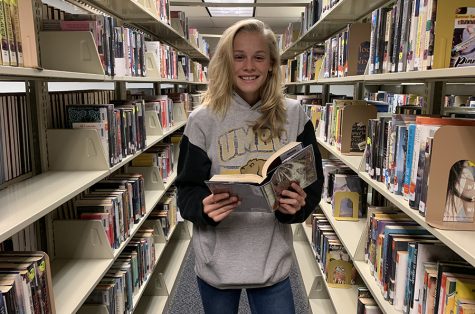 Lilly Trnka, Staff Writer
Lilly Trnka is a freshman at Goffstown High school. Lilly made the Varsity Girls soccer team as a freshman. Lilly loves playing sports and binge watching...