Movie Review: The Miseducation of Cameron Post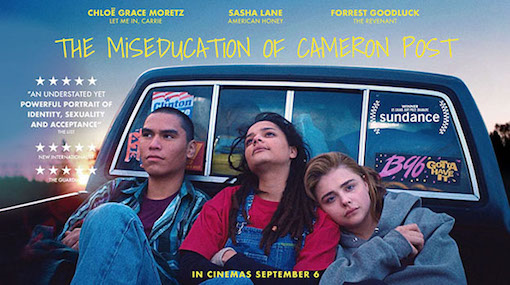 In a world devoid of very many popular LGBT movies, The Miseducation of Cameron Post shines as a beacon of amazing cinematography and satisfying story.
Cameron Post, played by Chloë Grace Moretz, grew up in the nineties. She was a normal high school girl except for one thing– her secret relationship with her best friend, Coley. After being discovered kissing Coley, her devoutly religious parents pull her out of school and send her to homosexual conversion therapy, where she quickly befriends others in her same situation.
Based on a book of the same name by Emily M. Danforth, this movie captures the experience of not only gay youth, but of anyone who has ever felt misunderstood or ridiculed by the people around them. It is poignant in its portrayal of the struggle with self-hatred that is all-too common among LGBT youth, and artfully and truthfully shows the emotional distress and mental illnesses caused by conversion-therapy camps.
Even while it reveals the negative aspects of being LGBT+, the movie takes time to celebrate the wonderful and confusing reality of becoming an adult. The friendships in this movie are strong and true as they help each other navigate depression, unsupportive parents, bad living situations, and unrequited love.
Though the ending is relatively open for interpretation and imagination, it still leaves the audience hopeful and pensive, and overall satisfied.