GHS Cross Country Takes Winter Carnival Outside
After numerous afternoons of exploring the new wooded property of GHS, crossing streams, pushing through low bushes, and weaving between trees, the cross-country team unveiled its new 2.5-mile trail in the first official Grizzly Chase Race on Sunday, February 17, 2019.  The weather was clear and sunny, with a temperature of about 25 degrees and a slight breeze. Students who attended earned winter carnival points for their respective classes.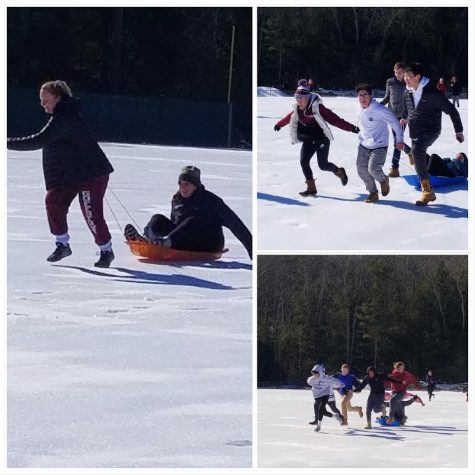 Fifteen adults showed up to walk and run the trail, either on snowshoes or sneakers.  The snow was covered with a thin layer of ice on most areas of the trail, but the racers managed to break through the crust as they moved along.  A bottle of local maple syrup from Raymond Family Maple Farm in Wentworth went to the winning racer after they high-fived the Grizzly waiting at the finish. A sled pull was held during the main race in which groups of five students from each class raced each other across the field, while pulling volunteers on sleds. The freshmen, sophomores, and seniors all formed teams for the pull. Coach Matthew Chadbourne commented, "with a snowshoe race, it's always tough planning around the weather…it was slippery in areas, but our racers still had a great time. Everyone left smiling."
After the race concluded, Madeline Finke drew the winning name for a raffle on a pair of Dion Model 121 racing snowshoes, donated by her family, as the culminating event of the day.  The Grizzly Den concession stand offered drinks and snacks donated by families of team members and race sponsors. According to Coach Melissa Mannon, "It was a good first year…the people who did show up had a lot of fun." The team encourages anyone who wants to get outside, explore, or just earn winter carnival points for their class to attend the race next year.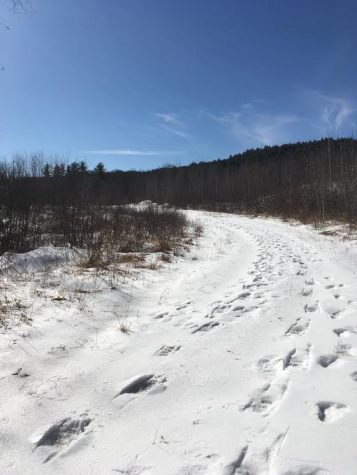 Bottled water was donated by Kami Zink, Realtor, and Tiffany's Bagel and Deli Cafe provided hot chocolate and snacks. Reliable Collision and Restoration donated the maple syrup from Raymond Family Maple Farm.  Surefire Automotive contributed to the budget for the event. The GHS Cross Country Team would like to extend a tremendous thank-you to all sponsors for their donations and support in its first snowshoe race.