FBLA's Big Year at the State Leadership Conference
On the 21st and 22nd of March 2019, Goffstown High School's Future Business Leaders of America (FBLA) program traveled to the annual overnight State Leadership Conference (SLC) at the Double Tree Hilton Hotel in Manchester, New Hampshire. The SLC offers opportunities for high school students around the state to compete against one another in tests and competitive events. This year, Goffstown had a successful run with many exciting and rewarding events throughout the two-day trip.
The SLC 2019 public speaker, Molly Kennedy, is a motivational speaker and author. She spoke to all of the members on day one, where they learned to "Flip Your Twenty" with Molly's entertaining and powerful presentation. She spoke about perspective, one's paradigm (or pair of dimes), and how no matter what life throws your way, you can and will overcome it. The students were extremely grateful for the opportunity to speak and listen to Molly, and carried her advice to their competitive events.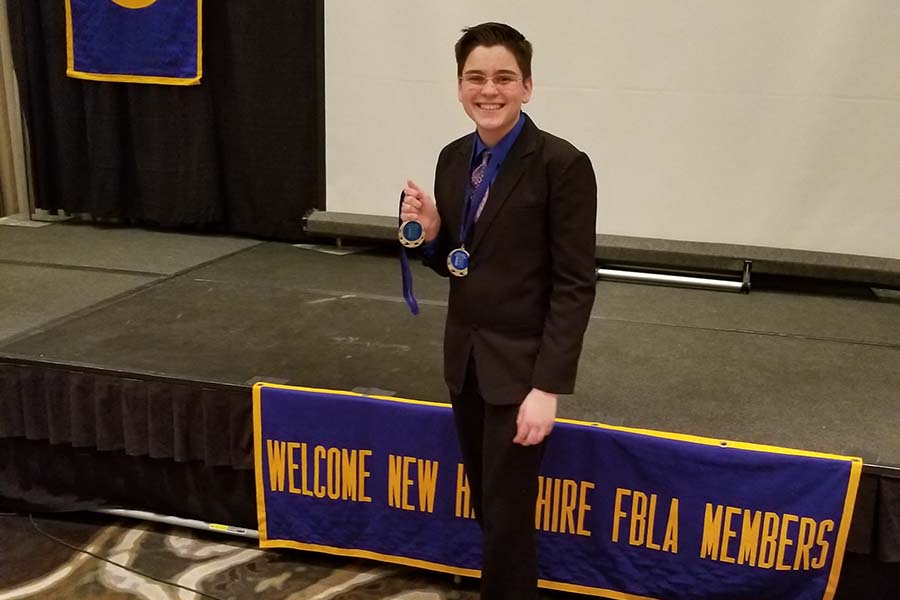 During SLC, the election for the following year's state officers also takes place. The candidates, who had been working on their campaign long before the election, take a majority of their time to use as campaigning to FBLA members from different schools and their delegates. Logan Boisvert, a sophomore at GHS, was one of this year's candidates. According to GHS FBLA advisor Krista Scarlett, "He worked hard and ran a fantastic campaign." Logan shined throughout his campaign, as he literally wore a gold suit to the FBLA dance Thursday night. Logan said, "SLC was one of the best experiences of my life- it was so much fun campaigning and speaking, I learned so much about business. It was hard at first, but the harder I worked the better it paid off; It was definitely worth it!" Not only did he win first place in his event, Introduction to Parliamentary Procedures, but walked away with an election into his state officer position. His state officer project is Teens Helping Teens which will go into effect next year.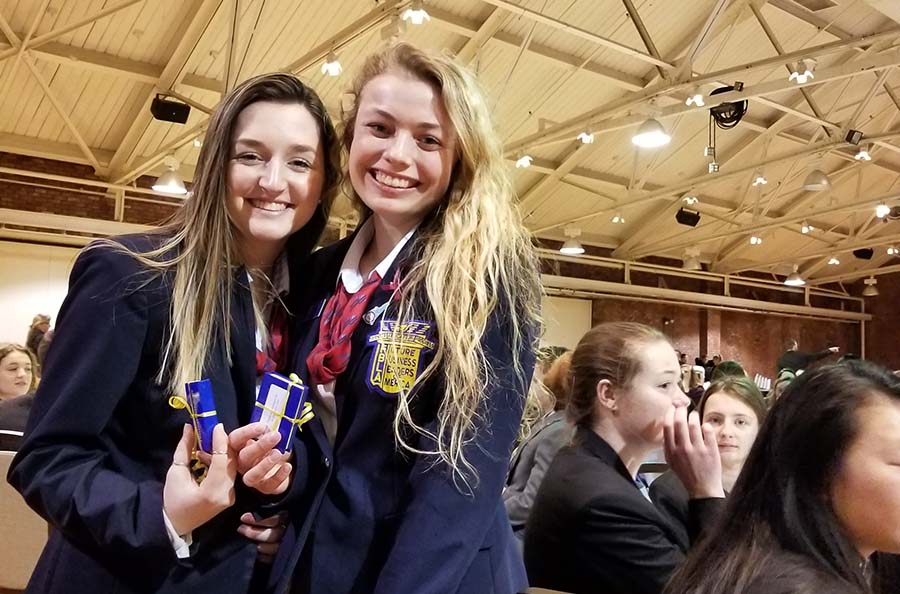 Goffstown received numerous honors in this year's SLC. Overall Goffstown was awarded: Honor Gold Seal Chapter- second place, Connect! Community Outreach Award- first place, Community Service Increase NH Chapter Award, Community Service Working with Senior Citizens & Technology- third place, Overall SLC Chapter Exhibit- second place, SLC Chapter Scrapbook Award- second place, Community Service State Project Opioid Crisis in New Hampshire- second place, and FBLA Community Service Project- second place. There were also many FBLA members who placed in their individual and group events: Sebastian Beal- second in Advertising, Garrett Cole- second in Information Technology, Jessica Demarzio- third in Business Procedures, Caleb Hagner- first in Computer Applications, Madison Houle and Leea Sarvela- third in Public Service Announcement, Sean Hunter- second in Introduction to FBLA, Jenna Tschida- third in Introduction to Public Speaking and Brynn Van Guilder and Jessica Smith- first place in Business Presentation.
Mrs. Scarlett is extremely proud of the chapter. She commented, "The level of commitment from the group was outstanding, the whole group was engaged to the success we had at SLC, best year yet". Mrs. Scarlett also points out, "Business connects to everything. FBLA enhances business, team working and leadership opportunities that are applied in the real world." If you would like to join FBLA, and participate in the many wonderful activities and opportunities they provide, please contact Mrs. Scarlett in room T-11.