The College Fair Offers Access to Admissions
Hang on for a minute...we're trying to find some more stories you might like.
The College Fair takes place at SNHU with about 120 colleges that attend including out of state colleges. This is an opportunity for students to attend their Junior year at Goffstown High school.This event is an exciting experience that introduces students looking into college after highschool. "It is very important to meet admissions face to face because they are often reading applications so getting one on one is important," says guidance counselor Ashley Barese. Lainy Biron a senior and student ambassador, says "The college fair gives you a head start in the process by looking at different colleges briefly."
When attending the college fair there are things students should know before going in.
"Tip 1 check out SNHU college fair website and make a plan on which booths students should visit, while having some questions in mind," says Ashely Barese. It is important to do a look through the list and think about the important interests in a school. "Questions to ask are what are some majors, how many students attend the school, are there any special programs like faster courses, and how many years," explains Lainy Biron.
Students may wonder the purpose of the college fair and why juniors go in September, but that's because students typically should start looking into college. Everyone knows the college process can be stressful and sometimes feel rushed or unprepared but the college fair gives the students one step ahead. It may be overwhelming at times but "You don't have to know which colleges you want but you should have a few in mind," adds Lainy. The GHS students attend the fair for an hour and a half which some students say it isn't enough time. Lainy says "yes, the time is short and I felt like I was rushing and standing in line to talk to admissions, but no the college fair is not stressful, I found I could get lots of information which was more helpful."
About the Writer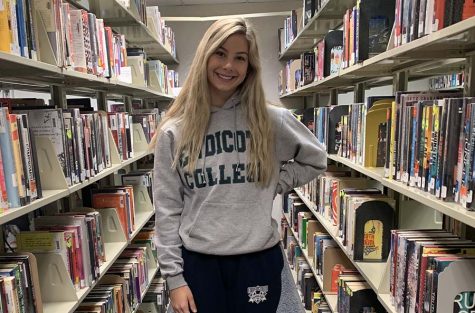 Sarah Allen, Staff Writer
Sarah is a senior at Goffstown High School. She lives in New Boston with her parents and older brother, along with a dog and cat. She enjoys science and...