The Goffstown Library Holds a Fall Book Sale
On Saturday, October 19th the Goffstown library held its fall book sale. Advertised through the newspaper, social media, a variety of sites that advertise book sales, and the Goffstown Library website/e-letters, the sale successfully brought in interested buyers. The library's lawn was occupied with tents and canopies to protect materials as well as buyers. There is not enough space in the library itself for the sale, so the sales always take place on its lawn. The sale was a great way for local book worms to get a deal on some new stories. From 9 a.m.-3 p.m., buyers were free to roam the tents in search of new reads. For only $5, buyers were able to fill a whole bag with books of their choice.
Though it is called a book sale, the sale held a variety of items. Buyers could also choose from an assortment of DVDs, audio, music CDs, and books. The exact number is hard to say, but in total there was roughly around 4,000-5,000 items available. The books ranged from fiction-nonfiction, for kids as well as teens/young adults.etc. Books of all genres were displayed at the sale. Because of the wide range of items in the sale, buyers were provided with many interesting materials. Community members enjoy the sale, as they find it to be a great deal.
Despite the book sale being hosted at the Goffstown Library, it's the Friends of the library who sponsor the sale. Friends are a nonprofit 501(c) 3 and raise funds to support the Goffstown Public Library. The library's Friends group typically does two book sales per year (the next one most likely being on 6/6/20).  Dianne Hathaway, the Director of the Goffstown Library, states the sale "helps to raise funds for the Friends to support projects through the library, like the museum pass program, programs and events like gingerbread house decorating workshops, concerts, summer programs for kids and families."
The sale may have been a small event, but members of the Goffstown community–such as Mrs. Mannon, the librarian at GHS, believes that it helps to bring the community together. The Goffstown Library, and GHS Librarians work closely together. Mrs Mannon comments, "as a librarian in town, I see it as a great public event."
About the Writer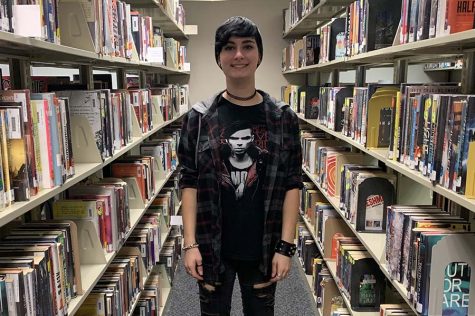 Alyssa Sangillo, Staff Writer
Alyssa is a senior and 18 years old. Though she's technically an adult, she has the personality of a 6-year-old on a sugar high. Alyssa is  normally quiet...