2020 Resolutions And How To Keep Them!
It's 11:59 as we all stand in front of the TV watching the count down. 10, 9, 8, the big ball lowers in Times Square 7, 6, 5, 4,3, 2, 1, Happy New Year!  2020 is among us and New Year's Resolutions are being made. A new year is always exciting and for the seniors, 2020 is the year they have been looking forward to. Making a New Year's Resolution has been a long standing tradition. People make resolutions to accomplish goals and improve their lives. Goals may be taking trips, eating healthier, buying a house, or donating to charities. One of the most common resolutions is getting more exercise and going to the gym. Two senior students shared their resolutions and some highlights of 2019. Liam Kilbreth, a senior at GHS, said "I am looking forward to graduating this year and playing baseball in the spring."
As the new year approaches people look at the new year as a restart button, but Liam says, "I think years are just a label and every year is what you make it."  Since 2019 is over, it's a good time to reflect back and leave bad habits in the past. Liam says, "I want to leave behind my messy room and do better being organized."  For Liam, "the best thing in 2019 was booking a lead role in a TV show." The most important thing to do is to set realistic goals as the year starts to make sure your year will be better than the last. Unfortunately, 80% of people have already dropped their new goals by February, according to Forbes.
T.J. Dutton, another GHS senior, says "In 2020 I'm excited for Marine bootcamp and hopefully graduation of becoming a Marine." It's good to have plans set and something to look forward to throughout the year. When reflecting back,  look at what you learned or got out of the year. Liam says, "The biggest thing I learned this year was who I am and what I want to do after high school." T.J. explained that, " the most challenging part of the year was getting through the beginning of another school year because it was the last summer before my adult life." Now that the new year has started, the best thing to do is stay motivated and do what you desire. Improve your year by creating a plan. A plan will help you to be a member of the small group of people who will successfully achieve their goals. T.J. ends with saying, "I think this year will be better than the last because it is the start to the next chapter in my life."
About the Writer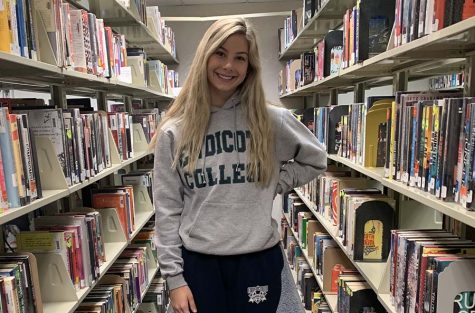 Sarah Allen, Staff Writer
Sarah is a senior at Goffstown High School. She lives in New Boston with her parents and older brother, along with a dog and cat. She enjoys science and...