Snow Days: Are They Already Gone?
Snow days are now a thing of the past. With the application of Zoom and Microsoft Teams in school, we no longer have to miss a day of school when snow prevents travel. In fact, we've already had a snow day taken away this year and replaced with a Zoom filled snow day.. On December 17th, 2020, students in Cohort-B had school shifted to a remote learning day and had to attend Zoom meetings throughout the day, since we received nearly two feet of snow. The meetings started at our typical starting times for classes and only lasted for 75 minutes compared to the regular 90 minutes blocks in school. Also, lunch was taken after three periods of Zoom meetings and disregarded the different lunch times.
As part of Cohort-B, I experienced the first Zoom snow day and felt like I was robbed. Before I even began my meetings; I had to wake-up before 7:56 on what should have been a day-off. Throughout my Zoom meetings, I felt my attention drawn to the beautiful snowflakes, gently falling from the sky, and could find myself spacing out a few times during these calls, captivated by the on-coming snow. After my second Zoom, I was drafted into the effort to clear a path for postal-workers to access our driveway, and ended up missing half-an-hour of my next Zoom call.
I am not alone in my thoughts that snow days should not be lost. Governor Chris Sununu tweeted this from his official Twitter (@GovChrisSununu): "Snow Day = Snow Day. I hope kids in NH will get the chance to get off the screens and into the snow tomorrow. One of the true joys of being a New Hampshire kid."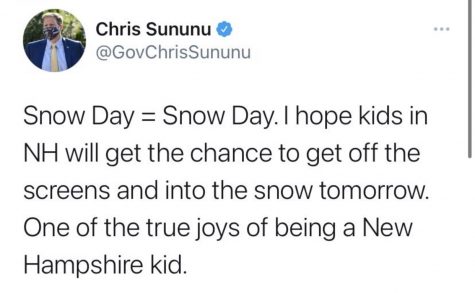 Snow days provide a day of respite for students and allows struggling students to take a day to slow down and focus. Snow days also provide a joyful and fun day off for younger students in the school district to stay home and play in the snow. Remember how awesome it was to have a snow day in elementary, middle, or high school? Having a snow day always felt great. Should this sacred tradition be repealed simply because we have the means to and deny future students something we ourselves have experienced and loved?
View Comments (1)
About the Contributor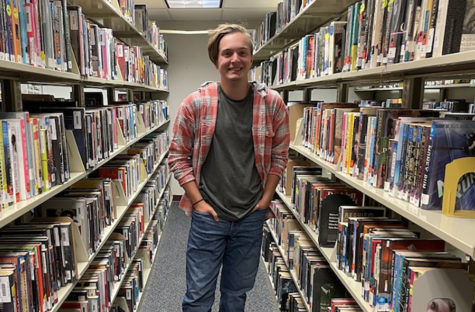 Keith Sanders, Editor In Chief
Keith Sanders is a senior at Goffstown High School. He likes to spend time with his friends and will talk to anyone and everyone. He values the community...