GHS's Latest Shift
On April 1st, New Hampshire Governor Chris Sununu announced all New Hampshire public schools would be required to offer a full-time in-person schedule beginning April 19th.  GHS has responded with a new plan that correlates with the COVID-19 guidelines. The shift to a full-time schedule has caused varying opinions among students and teachers alike. Brianna Gagnon, a sophomore at GHS, exclaimed "I'm super excited about it! A majority of my friends are in the opposite cohort. It will give a sense of normality." But, Emily Bowen, another sophomore at GHS, stated "I personally wish they would have just left it alone until next year and let this year just be. There are only 2 months left. But I will still continue to think positively."
The Schedule
In-Person:
Hybrid students will be returning full-time to a rotating Odd/Even 90 minute block schedule.  The schedule will begin, Monday the 19th with all Odd classes (1,3,5,7). Tuesday, April 20th will be an Even day (2, 4, 6, 8) and the rotation will continue:
April 19th-23rd

Monday- Odd
Tuesday- Even
Wednesday- Odd
Thursday- Even
Friday- Odd

May 3rd- 7th

Monday- Even
Tuesday-Odd
Wednesday-Even
Thursday-Odd
Friday-Even
For parking, sophomores need to park at Barnard Park, allowing themselves time to walk over to the school. Juniors and seniors are allowed to park on school grounds as long as there are spaces available. Once the back lot is full, students will be allowed to park in the front lot. Students should be sure their parking sticker is properly displayed. Unstickered cars will not be allowed to park on campus.
Once students enter the building, the flow of traffic will move one way, in a counterclockwise motion. Stairs will only have one way. Center stairs go up, stairways at the end of each hallway will go down. The stairway located at the back student entrance near the cafeteria will go up. There will be plenty of signs, arrows, and people to help you navigate through the school.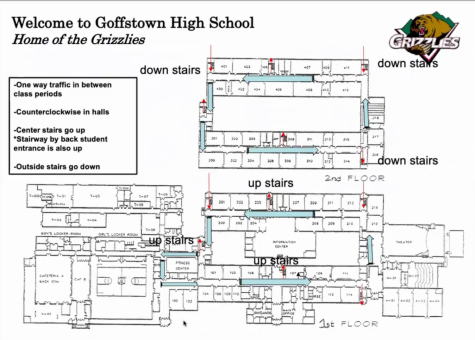 To follow COVID-19 guidelines, there will be four lunches instead of two lunches. Here's what that looks like:
(11:00-11:30am) A-300, Music, Mst
(11:30-12:00pm) B-100, Mst
(12:00-12:30pm) C-200, Business
(12:30-1:00pm) D-400, PE, Tech, Art
If possible students should eat in their 5th or 6th-period class. Alternatively, students may also eat outside or in the cafeteria.  Hallways should remain clear to minimize distractions for classes in session. This includes the benches. Despite the recent expiration of NH's mask mandate, SAU19 will still require students to wear masks and maintain a proper social distance.
Remote Students:
Remote students will remain remote. To correlate with the odd and even weeks for in-person students, there will be maroon and white Fridays. The reason for this is because there are teachers who are in person but also teaching remotely. Instead, each day of the week corresponds with a letter.
Monday- A
Tuesday-C
Wednesday- B
Thursday- D
Friday- Maroon/White (depending on the week)
Classes students normally have on Monday will be on A days, classes normally on Tuesdays will take place on B days, classes normally on Wednesday will be C days, and classes normally on Thursdays will be D days. Maroon/White Fridays correspond with the odd/even days in the building. Maroon Fridays are on odd days, and White Fridays are on even days. Starting on April 19th the schedule will look like this:
A,B,C,D, Maroon (Odd Week)
After spring vacation, beginning May 3rd, it will look like this:
B,A,D,C, White (Even week)

Students may feel this is all very complicated, but they will get the hang of it pretty quickly. This school year has been about adapting to change. This shift is simply the latest challenge to the GHS community's adaptability.