A Challenging Journey
"Magandang araw" is my greeting to all. It means "good day" in the Filipino language. I am a Filipino, and I came from the Philippines. It had never been my dream to go to another country, but suddenly here I am in America. Truthfully, I really never thought of it happening. I couldn't  imagine  a thing like this could be possible for me, because the distance between my home country and The United States is so far. Crossing the boundaries is to travel over the wide oceans and  mountain ranges and to pass through the clouds in the sky. That was my journey.
On August 23, 2016 we flew from the Philippines going to Japan, from Japan to Detroit, and from Detroit to Washington D.C.. Once we arrived, we met with other exchange students. Meeting the other exchange students was fun, despite the differences between culture, religion, and language. We are all trying our best just to make friends and socialize with each other.
Another exciting thing is we arrived in America on the 23rd of the month, the same date as we left our home countries.  A time machine is possible,  but the truth is that there was a twelve hour interval between home and America.
August 25th was the day we departed to our host state, which was New Hampshire for me. I was left in the airport alone, for all of my co-exchange students were already gone to their flights. Mine was cancelled for some reason. At that moment, I really didn't know what to do because it was my first time to be out of the country, and speaking English.
I almost cried. But I was relieved when one staff member from my program found me and brought me back to the hotel. I stayed for the night, and flew the next day. Confusion was on me. I waited at the wrong place- I'm supposed to be waiting downstairs, and I've waited upstairs. The time for departure came. I was really nervous. I rushed to the staff in the airport and asked. I ran to the escalator, not remembering my suitcase. I could have fallen off. I handed my boarding pass to the attendant who realized that I was the last person they were waiting for. It was the last minute.
The plane flew, which makes me emotional and silent. I cried, and after an hour, I arrived and met my host family.  Finally my fear was gone. I felt safe and relieved. I've proved to myself that I can do it. Though it was challenging,  it was also a great and an adventurous journey.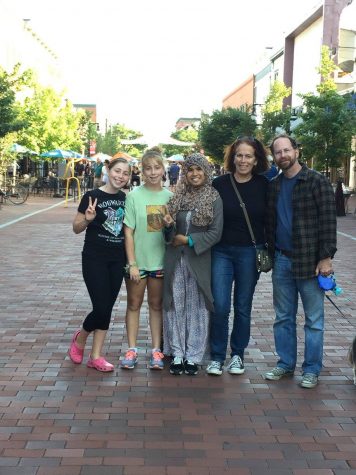 Jumaira with host family in Vermont.