Exchange Student Reflects on Manager Experience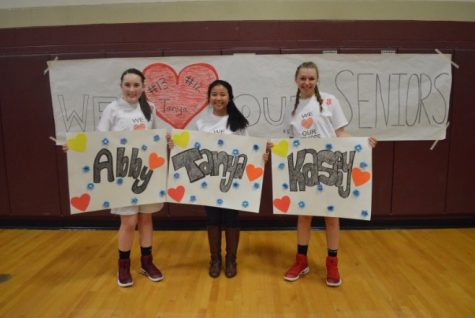 February 21st was the last home game of Girls J.V. and the Girls Varsity Basketball teams.  The players and coaches recognized the seniors and their contributions to the team with Senior Night. There are three seniors on the team, Kasey Britton-Doucette,  Abby Flegal and myself, Tanya Permkitpaisarn.
I'm so glad I made the decision to be a manager for the Girl's Varsity Basketball team. First, I went there to try out, but I did not make the team, so the coach gave me a chance to be a part of the team by being a manager. Everyone was so welcoming. I experienced many great times being a part of the team and this will be one of the best memories I have being an exchange student at Goffstown High School.
Senior Night at the last home game was a surprise to me. At first I thought they were just going to recognize Abby Flegal and Kasey Britton-doucette (the two seniors who are the players) but when I walked into the gym I saw the signs that had my name too.  At that time I was so  delighted. During being a manager, I learned many things from the girls especially the importance of friendship. We did everything together whether it be singing, eating, or practicing. They showed me how to be a true friend.