Goffstown Boys Volleyball Hope to End Season with a W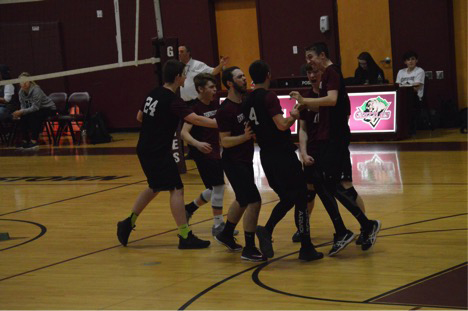 The beginning of the season was not one to remember for the boys volleyball team at Goffstown High School. After starting the season 0-3, the Grizzlies rallied hard and fought back, currently sitting in the fifth seed at 10-5 with one game left in the season. They are set to travel to the 9-7 Salem Blue Devils and hope to walk out with a win headed into playoffs.
The team's late success was predicted though, as they played number one, Pinkerton High School, and number two, Timberlane High School, three times in the first half of the season, as well as having seven players getting significant minutes who were either new to the game or new to their position. Also, despite the recent injuries of key players Alex Kelley and Garrett Gifford, they have found success in young reserves like middle Isaac Borges, defensive specialist Nicholas Martin, right side Patrick Collimore and outside, Patrick Manion.
Looking forward to playoffs the Grizzlies plan to continue looking to their upperclassmen hitters Jakob Britton-Doucette and Jack Bellemore, as well as setter Noah Rappazzo to lead their push against the top New Hampshire teams. When asked about the next three weeks, Jake Britton-Doucette seemed optimistic saying, "Looking back to last year we started 0-6, but finished the season strong. We hope to do the same this year and are setting our sights on the finals". He also seemed confident in their returning players saying  "I feel confident, we have some veteran players with playoff experience" and he believes the experience gained last year will help them prosper this year.
Talking to freshman middle Isaac Borges, about his role this year, he said "I feel like my role is definitely one of the smaller ones," but he makes it clear that he wants to do his best and help the team succeed. Coach Melanie Margeson, however, believes that the young starter is a key piece to the team's success, saying "I have been very impressed with Isaac this year. He came onto a varsity team with no prior experience and especially as a freshman that can be very intimidating. He completely transformed his skill level within the first week and absorbed every bit of information he could. He is a very important player out on the court and his confidence in that is really starting to shine. Every day Isaac has been improving."
It is apparent this team is confident in themselves, so now they have to keep turning that confidence into wins moving forward. They begin playoffs on Tuesday, June 6th when they travel to Hollis Brookline, and hope to continue their success. Schedules, rosters, and game results can be found at goffstownathletics.com.