Winter is Coming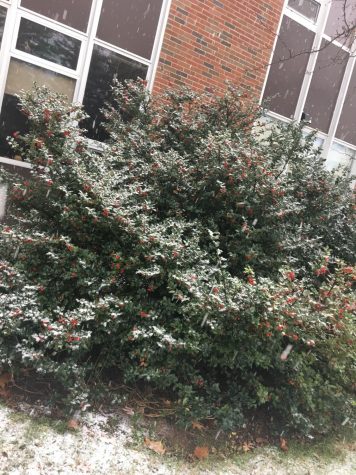 Starting as light rain, turning into heavy snow, Goffstown High School experienced the first snowfall of the season. As the bell rang for dismissal, many students gathered outside to witness the event. Many stayed in the school, and waited for their transportation within the safety of a heating system.
This snowfall isn't the first indication of our impending winter. For the past few days, it has been very cold out, even dipping into the low twenties. Despite how weird the weather has been throughout the autumn months- hot one week, chilly another- the weather seems to be back on track.
Today's snowfall was predicted by experts. The winter weather began around 2:35- 4:00 and is expected to continue until 5:45 according to The Weather Channel. Forecasters predict another possible snowfall again on Wednesday night with a 50% chance of precipitation on Thursday and Friday which could lead to snow if it gets cold enough.
This event triggered differing opinions among students. Some people are ecstatic about the beginning of the winter season, for winter weather has an element of coziness to it. Also, ticks don't particularly enjoy the snow, so that's an added bonus.
Other students think of this snow as more of an annoyance instead of a time for joy. Snowfall leads to icy roads and drive ways that need to be cleared and November is supposed to be an autumn month, isn't it?
One person, when asked, remarked that many people will probably end up looking upwards and in confusion and perhaps anger just say "What the *@$%$!?" to the heavens.
Whether you appreciate the newly come winter or not, it is here to stay, and probably won't leave until spring.