NaNoWriMo: The November Writing Challenge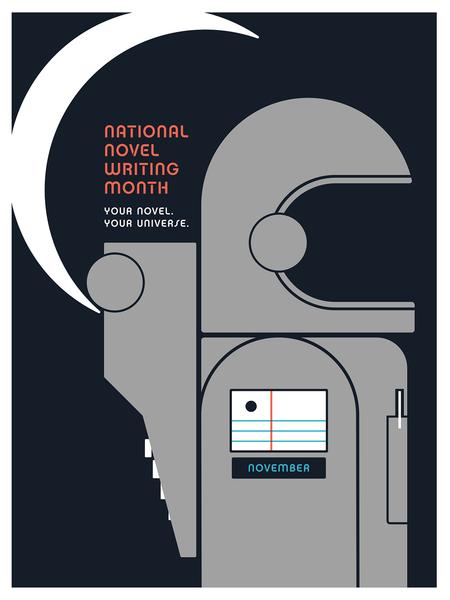 It's the wonderful month of November. Fall is fully in swing, school has been in session for about two months, seniors are quickly trying to submit college applications
And then there are the writers, who have their own way of celebrating November.
National Novel Writing Month, or NaNoWriMo for short, is a special writing event taking place from November first to November 30th. The event itself is quite strenuous.
The goal is to write 50,000 words, the equivalent of a novel, in the span of the month of November. You have to sit down and put your mind at work if you have your eyes set on meeting that goal. In order to not fall behind, you have to write around 2,000 words per day. For some, it is hard to find the time to write that much, especially for a busy student buried under piles of homework. It is no easy feat to come up with an original idea and write a full length novel in a span of 30 days. Even so, according to the NaNoWriMo site, there are 715 NH novelists participating, with over nine million total words written. This is a massive feat achieved by many in our own home state, regardless of the homework load and life in general!
So you've decided you want to participate in NaNoWriMo, but are questioning what possible rewards will come your way at the end of the month should you reach the goal. Honestly, there aren't many rewards to spending an entire month writing a novel that you'll probably rewrite later, and that might discourage some to shy away from the challenge, but the main reward is getting bragging rights. You get to say you've written your first novel in a month.
If you're a member of any of Mr. McDermott's English classes, then there's the other bonus of not having to write essays for the entire month. However, you do have to make the essays up if you don't meet the goal, so there is some motivation to completing NanNoWriMo and getting your story out there.
Are these small rewards really worth all the stress and possible frustration of writing 50,000 words? Yes, and no. I have done NaNoWriMo for four years now, and I can say that while it is nice to have the bragging rights, it doesn't really do much to make up for the frustration of battling writer's block and creating an entire story from scratch. It's a challenge, but once you take a step back, one can realize that is the whole purpose of NaNoWriMo.
It gives you a new experience that is similar to writing a book for a job or profession. Writing for a job does mean there will be deadlines, and this can be considered practice for those who seriously want to consider writing for their entire life. In a way, writing an entire novel is thrilling, and fun once you move past the initial panic.
To quote a fellow NaNoWriMo participant, Devin Pouliot, "It's not an easy task to complete, but that doesn't mean it isn't fun." He's participated in NaNoWriMo for two years now, and said that he experienced the thrill of writing about something he wanted to. It was a great experience for him, and suggests that others participate in it as well, just for the fact that there's no specific idea or concept you have to write about! I can definitely agree with what Devin said about NaNoWriMo.
Even though I have yet to fully finish the challenge and write 50,000 words on any of my attempts, I have come back again and again to participate because some of my best ideas have come from it. My passion for writing has been fueled because this, and I am so relieved that I took the chance all those years ago and decided to participate!
So, is NaNoWriMo something that one should participate in, even if it's only one time? If you're willing to write 2,000 words a day and want to enhance your writing skills, then definitely! Even if writing that much for 30 days straight isn't your thing, it is still something beneficial and enjoyable to do! Regardless if November is almost over, it is never too late to start or participate and to spread your brilliant ideas!