Mud Bogs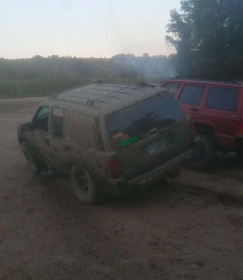 The wet, sticky, no smell, brown color of Mud. Everyone knows it. Now imagine you have dirt bikes, 4 wheelers, trucks, beat up cars, etc, playing around in it. Seems fun right?
Almost every weekend, up north in Allenstown, NH, you can find Robert Sweet, Samantha Demers and all their friends with their trucks mudding. They call it the Mud Bogs and "it's been going on for a couple years" according to Bobby. He says it's 100% legal since it's on private property. Bobby told me he found out "a family friend, of a friend, allows us to use his land that's right by the Merrimack River. It get's really muddy when the rain raises the water level". He also said the "only rules [owners] have is to clean up after yourself and make sure to clean up the broken glass".
Bobby has been so many times  he has forgotten the actual amount of times he has been mudding. He just knows that when he goes "[he] can mud anything and [he doesn't] get stuck".  Bobby recalled that "a couple hundred" go to the Mud Bogs every weekend. Almost like a family reunion with trucks, dirtbikes, 4-Wheelers, beat up cars and everyone stays mudding for the whole day.
"You better be ready to get dirty when you go," says Bobby. "if you get stuck, it's even better. You get to walk in the muddy water to get someone to pull you out".
Sam Demers has been going with him. She explained how they crashed with someone last Saturday. "We were coming out of a mud puddle after getting stuck, another truck was sliding around in the mud and was coming for us. We tried moving out of the way and their front bumper hit the back right headlight. It was more funny than scary. It wouldn't change how we mud or make me not want to go again".
Bobby said that the best way for someone to go mudding at the bogs is to take these simple steps.