Who Could Ask for Anything More?
"Crazy For You": behind the scenes
The clicking of polished tap shoes on the floor of a school classroom designated as a dressing room. Dozens of hairspray cans finished up in no time. Handmade cowboy costumes all ready to be worn. Everyone seems to be rushing around, with the same questions alternating in their minds: Do I know all my lines? What if I forget my steps? And what about that high note I always struggle with?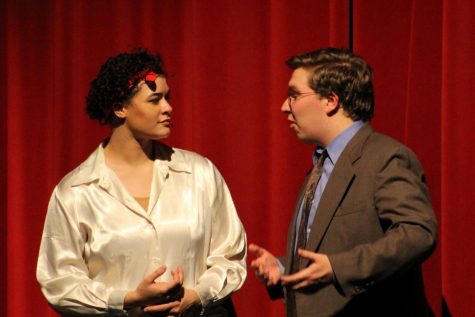 Behind the scenes. It's the night of the last performance for the cast of "Crazy For You", the 1992 Broadway show that has been chosen for this winter's musical production at Goffstown High School. "Crazy For You" reenacts the tale of a boy, a girl, and a theater in need of salvation: stage-struck Bobby Child (portrayed by William Peterson) works as a banker for his overbearing mother but spends his off hours practicing dance routines and sneaking in to audition for Zangler's Follies, the most popular show in New York City, helmed by Bela Zangler, a Hungarian producer. Unfortunately, Bobby's showbiz career is going nowhere, so when his mother asks that he investigate a far-away customer who has defaulted on a mortgage, Bobby jumps at the chance to get out of town. Arriving in hot, quiet Deadrock, Nevada, Bobby falls for Polly Baker (portrayed by Mary Catherine Gill), the sweet and bold postmistress, whose father owns the beautiful, but crumbling, Gaiety Theater, which he had been sent to seize. Now lovestruck, Bobby comes up with a plan: call in his friends, the Follies Girls, all the way from New York City, cast the locals — a bunch of cowboys with latent musical talent — and put on a show to save the one building.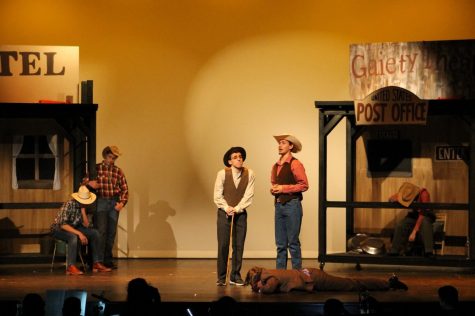 The cast, made of approximately thirty students of all grades, performed five shows in total within the last two weekends of February 2018. I decided to satisfy my curiosity and ask them a few questions. "What was it like to be part of such a great project?", I asked Veronica Iredale, a member of the ensemble. "As a freshman" she started, "it's really uplifting because not only are you part of something big so soon in high school, but you also learn how much you are needed. Sometimes you're out on the back and you feel disappointed, but it's for a reason". When I asked why she sees it that way, she replied: "I think it's a beneficial and a necessary step in learning where you are in the ensemble. Every single one of us is needed, and that's something we learned a lot".
The cast worked tirelessly during the months of January and February with Ms. Philobotte, Mr. Desrochers and Mr. McKernan, the three teachers who rule the music wing at Goffstown High. Ms. Philobotte observes: "We make art. We do not score points. We do not win games. There are no championships here. Art is concerned with meaning. Here, these kids learn to be reflective, problem-solving meaning makers and if there's a problem, we lean of the cast and we work to make it better. We take the time. We move forward. I'm focused on my students' growth".
And what about rehearsals? The cast reunited almost everyday after school in the theater and practiced for several hours. "It was a wild ride of emotions, sore muscles, sleepless nights, and everything in between", as Fahim Ahmed, freshman at GHS, explained to me.
However, everyone in this vibrant group grew very close in the course of the time they spent together. "Throughout the entire production" Veronica Iredale added, "there are always going to be some little conflicts, but the thing about this program is that we always come together, no matter what. You make so many new friends and learn things about each other that you never would have known otherwise. We are so lucky to have this and not everybody realizes how sad we're going to be when we don't have it anymore".
I then asked Veronica what show she thought was the best so far. "For me, it was undoubtedly the second Friday one", she began. "There was a lot of energy on stage and a different vibe because the female lead's understudy, Kaitlyn Beauchemin (sophomore at GHS) portrayed Polly Baker. It felt both terrifying and exciting at the same time".
The response of the audience was definitely supportive and gratifying. "Some teachers said they had never seen high school students dance like this before", reflected Phoebe Castellano, freshman at GHS. She expressed her bitterness about the upcoming end of this great experience. "We went from tears to hugs and rhythm to breakaway bottles and costumes and the makeup and the hair done in a school classroom. We came a long way. Who could ask for anything more?"