Boys Lacrosse Comes to an Unfortunate End
Hang on for a minute...we're trying to find some more stories you might like.

When the Goffstown boys lacrosse team stepped out onto the field in Portsmouth no one knew what the outcome would be. It was the quarter finals and they had lost to them by one goal on senior night in Goffstown only a few weeks prior.
"We all went into the game with the mentality that we had to work even harder than when we played Portsmouth before. Even though we lost last time there couldn't be any assumptions made. If there was, I think that we wouldn't have been as competitive during those 4 quarters."
Although they kept a neck and neck score during the first half in the third quarter the Grizzlies were up with a 3 point lead. After getting into their regular flow it looked as if they may pull out a win.
"I was getting comfortable with the lead we had on the clippers I mean none of us thought anything was definite but anytime you're ahead there's a feeling of safety."
After receiving a call against Goffstown High the referees chose to pull a player out for a minute for cross checking. With a man down Portsmouth pushed back hard. Gaining a goal and keeping possession for a large chunk of the quarter even after the penalty time was up. And eventually evening the score out.
"When they [Portsmouth] scored that last goal to tie up with us my stomach just sank. It's not a good feeling to go into the last quarter with no lead and 3 goals let up."
Eventually the clock ran out in the fourth and since no one scored overtime was thrown in the mix. All each team needed to do was score a goal first and they were moving on. It was clear the GHS boys wanted the win.
"It's a lot of pressure during those couple minutes. The first goal is also the last one. And as a senior all of the emotions that come with ending high school and a sport that I've played for 4 years hit me. No one wanted to lose but they made a good play and scored first. It is was it is."
With a clear disappointment on everyone's face on the team, and in the crowd. The Goffstown Boys lacrosse team was ending their season. Most of the seniors gave glossy-eyed hugs to each other, their family, and the coaches but it was clear to see they were struggling with a lot of emotions.
"It was bittersweet. No one wanted it to end but we all knew it had to eventually. And even though I'll miss playing with all those guys there's so much we are all going on to do that it was important to keep everything in perspective."

About the Writer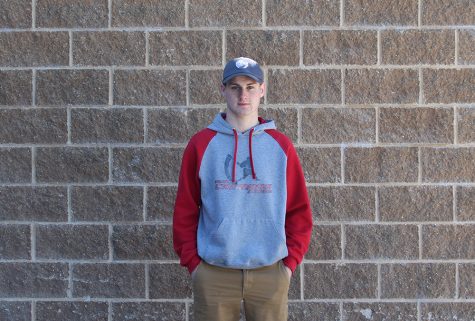 Finn Grant, Staff Writer
Finn Grant is a senior at Goffstown High School. Finn has been on the lacrosse team all four years of high school and is looking forward to his senior...