Grizzlies Comeback
Goffstown High School football has always been a big deal at Goffstown. The GHS community is very supportive of this team. This season, however, started off slowly with three back to back losses. The team lost to Merrimack 6-41,  Nashua North 22-48 and to their rivals Bedford 7-44. Head coach, Justin Hufft said that a lot of talented players graduated last year so the defensive line is mostly first time players on varsity. One of the biggest challenges to him is that the team isn't as fast as before, but he is determined to make his team the best it can be. Starting off with 3-0 definitely was a challenge for the players but Hufft tries his best to motivate his players "we define the challenge and how we can overcome that issue, we tell the players that it's not going to be easy but it will be worth it". Hufft has been a coach of the football team for a few years now and that experience helps him coach every practice. That experience in the past helps him better react to situations whether it's in practice or a game. He knows how to react because after coaching for a while it becomes a second nature to him. He likes to have fun with his team but also makes sure the practices are productive. A typical practice starts with film in the step room it could be film of their team or the team that they are playing against, then they walk to barnard put on some music and keep the players active. They will practice sometimes on individual skills, mostly practicing the plays and working together. To him practices are important he believes " that if you practice good, you'll play good". To this coach the bond between this team is important. Having a good relationship with the players and other coaches makes the experience much more enjoyable. The best part of coaching is the the combination of interacting with different individuals and spending time with them everyday creates a family.
After a close game, Goffstown won over Central the score was 21-18. The quarterback Charlie Keith scored the winning touchdown with less than a minute on the clock. It was one of the best games so far this season. One of the captains Nick Fragos explains how this season is going and what they have done to improve. He claims that the practices go the same as they always have done, but they are focusing more on working together and drilling in their plays and responsibilities. He believes that this season "is going great, the new kids have really stepped up to the plate, they are proving themselves". The first 3 losses motivated all the athletes to work harder and become a stronger team. The bond between all the athletes helps the team overall. They all went to camp together and they spend time everyday together at practices and attending pasta parties. Nick reveals that "spending so much time together forms a brotherhood, and that brings us all together". That brotherhood has a huge effect on how the athletes play on the field, they are all so close and that makes him want to work harder. They work for each other and always encourage each other when they are on and off the field. Whenever an athlete gets a tackle, touchdown, an interception or do anything good they always scream and congratulate them. They can trust each other so when they are on the field they know that everyone will do their job as best as they can.
This team has come a long way this season they started off with three losses and now they are on a six week winning streak. They beat Keene 46-6 last game and now they are now facing Bedford for the playoffs. They all have worked together all season and have accomplished so much. Nick said that "it's crazy, but I'm proud I knew we were capable of this and now we have really proven ourselves."

About the Writer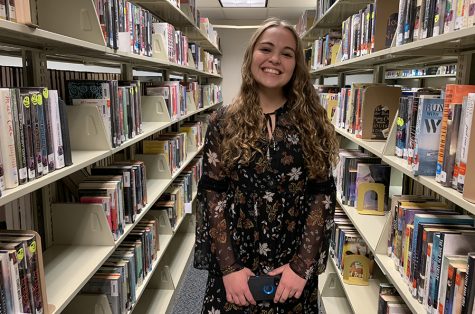 Alicia Duval, Staff Writer
Alicia Duval lives in Goffstown and is a junior at Goffstown High School. She has been a cheerleader her whole life. She enjoys hanging out with her friends...