Tips and Tricks for Cooking Your Turkey this Christmas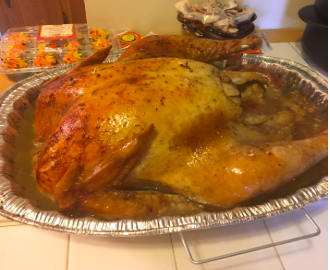 It's Christmas morning, you have your whole family coming over in a few hours, and you're in charge of cooking the Thanksgiving dinner. Here are some tips to help cook your turkey effectively and efficiently. The first step is to choose the turkey that's best for you. Think about how many people the turkey needs to feed: usually a pound and a half of turkey per person. Secondly, the turkey needs to be as moist as possible. To ensure this, start by rubbing the turkey with butter or oil. Stuffing your turkey with vegetables is a great way to keep it moist and filled with flavor. Cook the turkey on the rack, along with more vegetables to help to enhance the flavor. You can skip basting the turkey, but invest in a good meat thermometer according to Food Network. Be sure to let the turkey rest after cooking.
Mr. Greenland, the culinary teacher at Goffstown High School, recommends letting your turkey defrost for roughy three days. After defrosting, place carrots and celery at the bottom of the pan that you're planning to use to cook the turkey. Afterward, place the upside down turkey in the cooking pan then coat it with butter and a variety of other herbs and spices of your choosing. Next, the turkey cavity is cleaned and stuffed with chopped carrots, celery and onions. Once the turkey is stuffed, you can begin to make a tent with aluminum foil, trying to avoid the aluminum touching the turkey. "This will help to lock in the flavor" Greenland explains. While it cooks, the turkey is able to absorb all its juices due to it being upside down, which helps keep it moist and flavorful. Mr. Greenland recommends cooking it at 375 degrees for 20 minutes per pound, until the internal temperature is 165 degrees, or until the pop-up timer pops on the turkey. Roughly 30-45 minutes before it's officially done, flip the turkey over and cook without the aluminum foil to brown.
Megan Charest is a student at Goffstown High School who enjoys cooking her family turkey every year on Thanksgiving. Megan explains that the night before she does a dry rub of salt, pepper, and onion powder and then lets it sit overnight. In the morning she cuts up carrots, onions and celery. She chops two onions in half and places in the turkey along with the carrots, celery and dry parsley and thyme.  After that set the oven to 350 degrees and as it's heating up make a tent out of the aluminum foil and stands it over the turkey "this will help make the turkey more flavorful" Megan explains. Every hour pull back the foil a little and begin to baste the turkey. For the last step of cooking, remove the tin foil completely and let the turkey brown. On hour 6, check the temperature and wait for the pop-up timer to pop to know when it's done. Megan explains "this is how to be sure your turkey is as tasty and as flavorful as possible."
Citations
https://www.foodnetwork.com/recipes/articles/10-tips-for-cooking-the-perfect-thanksgiving-turkey/10-tips-for-cooking-the-perfect-thanksgiving-turkey-infographic