Special Olympics Bowling Tournament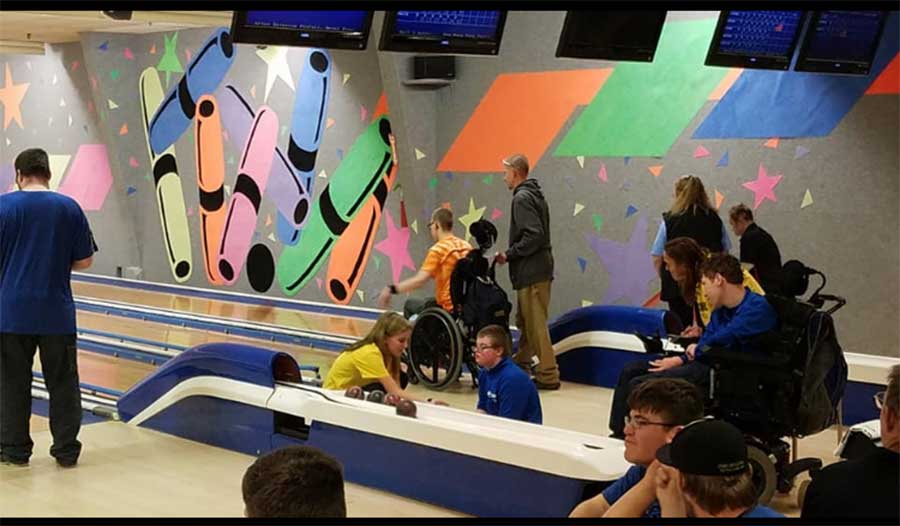 As the weather cools, school moves back into session and fall sports jump to a start. Goffstown High School promotes multiple fall sports. School sports are usually based on tryouts. If someone becomes a part of the team there are practices often before or after school, typically located on the school's campus. In particular, Goffstown High School is involved with Special Olympics. Special Olympics is an international competition where mentally and physically handicapped athletes compete. These athletes participate on Team Uncanoonuc; the sports included as a part of the program include: a fall bowling team, winter basketball and skills team, and a spring track and field team.
The athletes loved going to practice every Tuesday from 3-5pm; they were always excited for bowling, which happened every Tuesday at King's Bowling Alley in Goffstown.  After six weeks of weekly practices- it was competition time. Coaches Lynn Fitzpatrick and Rachel Banach commented on how excited they were for the tournament to start. All athletes either independently compete or are assigned a volunteer to assist them. The tournament happened on Saturday, November 3rd from 12pm-4pm at Manchester's Lakeside Lanes. Manchester's Lakeside Lanes; Lakeside Lanes has candlepin bowling, which is the athletes' choice of bowling. Each teams were randomly selected and paired against other Special Olympics teams in New Hampshire. Coach Lynn commented, "We had a total of twenty-eight athletes that competed in the tournament."
On the day of the event all the athletes were full of energy. The bowling team wore blue collared Uncanoonuc shirts, while volunteers sported yellow t-shirts which said "volunteer" on the backs. There were twenty-five lanes located at the Manchester's Lakeside Lanes; this made it so every team was separated from each other. This is where volunteers are helpful; with the volunteers, coaches don't need to be everywhere at once. Team Uncanoonuc had twenty-eight kids who participated in the competition.
Overall, both coaches announced the tournament was a great success. When Josiah was asked how the tournament went he commented: "[It was a] fun time! I won." There were two rounds and he ended up getting third place overall for his lane. Colin exclaimed "yayyyyy!" With lots of clapping to show he had a wonderful time as well! The coaches also mentioned, "We received gold, silver, and bronze medals for our efforts and everyone walked away with great confidence because they did their best! Our next competition is in January for basketball and we will be trying to win a gold medal for first place." The Special Olympics bowling tournament was a success, but the athletes are impatiently waiting for the holidays to pass for basketball season to begin.