Homecoming Happiness
Paw Print Author- Lexi Bessette
It's that time of the year again! Homecoming is upon us. The Student Council team is working very hard to make this homecoming assembly a success. They started preparing for homecoming September 10th at 7:15am. Aron Silvestre is a Junior and co-chairman of the homecoming committee this year. Silvestre has been in student council and doing homecoming since his freshman year. He is a dedicated student council member and loves homecoming for the simple reason of he just loves to see his school come together and have fun. Kevin Buciak the Senior chairman. Buciak on the other hand is fairly new to the game, he has been doing student council and homecoming since his junior year. Buciak was the junior co-chair last year, so it was kind of expected of him to become the chairman for his senior year. He loves homecoming, because it's a great assembly and he loves to hear the feedback from students about whether or not they had a good time.
They can't be the only ones in charge of this large event, they pick two representatives for each class, but leave it open for the rest of the council to join in and help as well. Buciak observed, "It's making sure Aron and I aren't making all the decisions such as meme day."  The only challenges so far are time management and making sure that the student body is heard. Silvestre stated "there has been a huge increase in student council participation from the junior class."
Meme day has created a lot of buzz from the students. It seems as though that's the day everyone is looking forward to the most. Speaking of which the spirit days this year are Meme day on Monday, Western Day on Tuesday, Patriotic day on Wednesday, Decades day on Thursday, and Class colors day on Friday. The class colors for the Freshmen have changed to blue instead of black this year.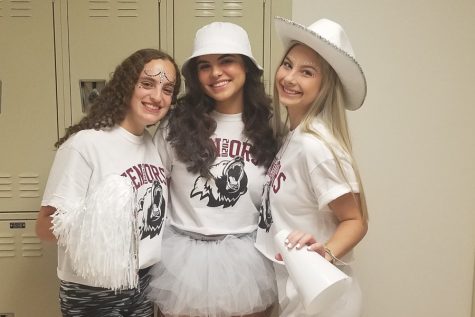 Since it is a competition, each class has their own assembly dance and theme. The Freshmen are the 2000's, the Sophomores are the 90's, the Juniors are the 80's, and the Seniors are the 2010's-2019. The dance rehearsals started Monday, Sept. 30th after school. The Senior grade came up with the idea of decades for the theme of the class dances. Buciak said "we decided on that, because we got to pick popular music that we can dance to," but decades is a fun idea, and the students can  explore new genres of music and ideas that they don't necessarily experience everyday.
Also the penny slam will be happening this week. They will be collecting pennies, nickels, and dimes. If anyone puts in a dollar it will count against their class for homecoming points.