The Addams Family Production
Clapping and cheering bellowed from the audience after many vocal numbers of The Addam's Family production. According to lead Rebecca Franklin, "there were 30 members in the cast, and 10 lead roles."

The Addam's Family premiered on October 18th and ran through the 20th at The Majestic Theater in Derry, NH. . Rebecca played Morticia. According to Rebecca, the cast spent many hours rehearsing and noted, "during tech week, we had to spend the night from 6 p.m. to10 p.m."  at the theater. Rebecca went further to say that she loves participating in plays because she gains confidence in herself  as a performer. 
When it came to making this play, the director, Joycelyn was in charge. When the production began, "The play took two months to create." 
Before the play started makeup and practicing had to be done, "Make-up time varied throughout cast members." Rebecca goes on to saying that the actress joined to do makeup together. The actress playing the grandmother took longer than any other cast member.  Her makeup consisted of drawing on wrinkles.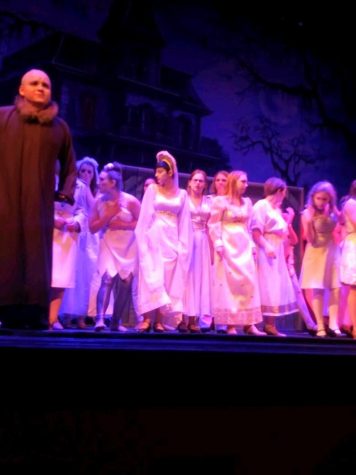 Costumes, according to Rebecca, were borrowed from other theaters, some things were in storage and some items were brought from home. "Some special items ( like my tear up dress) we made from old Walmart costumes." Rebecca stated.  The special items consisted of a red and black dress that Rebecca Franklin wore when dancing with other cast members such as Matt who played Gomez Addams. 
While dancing was choreographed in many scenes like "Full Disclosure" and "Crazier Than You,"  Rebecca Franklin was one of many who helped choreograph parts of the play based on her previous experiences in theater. 
When The Addams Family play premiered; Shannon Lepage went to see it on Saturday, 19th of October. "Rating it 5 stars."
When Shannon Lepage went to see the Addams Family play she bought tickets online and the tickets varied from 12-15 dollars. Tickets were also available at the door.
After watching the play Shannon said " They were amazing!" She went on to say how she and her family came to support cast member Rebecca Franklin. 
Rebecca Franklin's last comment on the play was "lines where skipped, actors forgot lines, props broke, but we carried on." 
Although the lines and props had hiccups, the audience saw a seamless performance.

Once asked about the cast and of what they could improve, Rebecca replied,  "Everyone did an amazing job covering for each other and worked as a team. I got to know many new friends and amazing people."