Captivating Challenge Day
It's 8 a.m. on December 11th 2019 and Goffstown High School is holding the annual Challenge Day. Music blasts from the gymnasium, and Goffstown High School faculty are lined up greeting the graduating class. The students walk through the tunnel of teachers giving them smiles and high-fives. A few moments later everyone is seated, and the gym falls silent. Anticipation is in the air. People don't know what to expect. Word going around school is that it is going to be different than previous challenge days.
At the beginning of the day, in order to break the ice, everyone participated in an activity like musical chairs  where "if something applies to you, you would have to get up and find a new chair," states Elena Topouzoglou. It was a good way to break the ice and get yourself comfortable with the environment. Students participated in other games like "mini volleyball a lot of dancing, singing, and group games that were a lot of fun," states senior, Renaud Pelletier.
Although the beginning of the day was more outgoing and fun, the middle of the day began to get more emotional and serious. The students participated in a silent cross the line activity. It made students think and remember hardships, rough times and even people they have lost throughout their life. Renaud Pelletier says, "it made you realize that not everyone had the same high school experience." Students showed their love for their classmates and acknowledged the people who were struggling. People crossing the line realized that other people were going through some of the same experiences even though they may have felt alone in that time.
In other activities the graduating class participated in, students acknowledged old friendships that may have fallen apart, showed their friend that they love them and still care, and just shared their personal story. The energy allowed students to open up, and it showed them that the gymnasium was a trusting and loving space where they could be vulnerable.
As the day wrapped up, the mood and energy definitely shifted. Renaud Pelletier states that, "the start was energetic and welcoming," however towards the end Elena Topouzoglou admitted it began to get "sappy and emotional, but the discomfort was going away and people seemed less scared to be vulnerable."
The outcome of Challenge Day was not only to allow yourself to become vulnerable, but it allowed students "to understand each other and realize that we all go through similar experiences. "It made me more aware of everyone else in our class, and I felt closer to them," admits Elena Topouzoglou.
Pelletier admits that he went to Graduation Challenge Day because he was told that "it wasn't going to be like other challenge days in previous years" and he wanted to see how it was going to be run, "but I'm glad I went to Challenge Day. I felt more connected to my graduating class after, and I really enjoyed the day as a whole."
About the Writer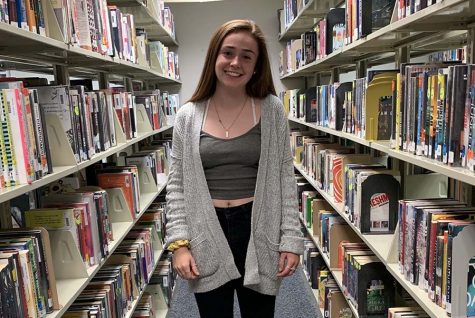 Alexa Skinner, Staff Writer
Alexa Skinner is 17 and a senior at Goffstown High School. She has been playing soccer her whole life, and is the captain of her team this year. She loves...