Week of Respect
In a few weeks, the school will be covered in orange.  Posters will be hung on every wall, promoting the signs of a healthy relationship and an unhealthy one.  A healthy relationship is supportive and positive. An unhealthy relationship is one that is controlling and mentally and/or physically abusive.  This will be a week of education and support.
Goffstown High School will be participating in Respect Week, starting on February 10th to the 14th.  This is a week dedicated to raising awareness about healthy relationships and speaking out against spousal abuse.  The club Empower and the Movement and Dance Company, MoDaCo, will be in charge of this week and its activities.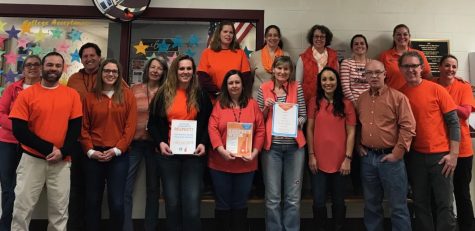 This is GHS and Empower's second year observing this week, but it is the first year MoDaCo will be helping.  Empower chose to include MoDaCo because "we could have more funding, since Empower is such a small club and so that we could better plan this week," says Emma Strong, Vice President of Empower.  Both Empower and MoDaCo have held executive meetings in order to prepare for the week. The groups have an ambassador from the NH Coalition Against Domestic and Sexual Violence, who they have been in touch with during preparations.  Activities that have been planned are "activities during lunches and in classrooms, announcements, hanging up posters, and wearing orange, the color for teen dating violence awareness," says Emma.
The goal of the week is to promote healthy relationships, but Emma hopes that "people will remember that they can get help from somewhere, that they aren't alone and that they can look out for signs of a healthy relationship and help each other." By observing this week both clubs hope to show students they are not alone if something harmful is happening in their relationships.  Adam Zienkiewicz, a senior MoDaCo member, hopes "people remember the techniques of how to become better communicators and how to respect others more fully while becoming more empathetic and understanding".  
The week will be full of educational activities for students to partake in, while learning what a healthy relationship is.  Both Empower and MoDaCo want to show students there are people in the school who are able to help and listen if they are in an abusive relationship.  "Ultimately, we hope to accomplish a better understanding for people of our connections to others and how we interact with others. We hope these concepts can benefit the school community and that adults as well as teens will apply this information continuing in life," admits Adam.