NF "Real Music"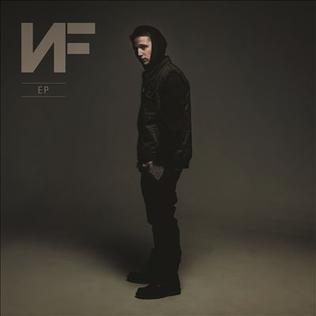 NF, a sad Christian rapper, is also known as Nathan John Feuerstein or 'Nate.' There is little chance you haven't heard his music. His song "Let You Down" peaked at #12 on the Billboard Hot 100 and went triple platinum in 2018. 
"'Let You Down's' the only song you've heard of? Well then you're behind" — NF, ("WHY")
Nate has credited Eminem as his main role model in hip hop and rap, claiming that at one point, Eminem was all he listened to. Nate pulls from his traumatic childhood and puts it into his music, never afraid to talk about dark thoughts or insecurities. Like Eminem, he likes to cram as many syllables and as much rhyme into each bar as possible. The only real difference between the two is that NF doesn't swear and, according to his fanbase, goes deeper into his emotions.
People who don't know his music well or aren't fans may call his music depressing, however, his fans would call it real. Nate markets his raps as "real music" to underline the authenticity of his emotions and lyrics. He sees music as a therapeutic release, thus he doesn't hesitate to express any thought, no matter how grim. Those negative thoughts are frequently the most genuine.
He is currently on his Clouds tour across the US. He talks about flaws, OCD, relationship problems, doubts, self-reflection, depression and even suicide in his music. Many people relate to him and his struggles.
"I put it all in this microphone, think about that for a minute. What is the point of this song? Just venting but what do you expect from a therapy session?" – NF, ("Therapy Session")
NF goes deep into simply his emotion with his raps and truly lets his visibility show with his album, The Search. One Reddit member of the NF fan page describes The Search album and says "[…] his pain is palpable and [they] felt it going deeper with every song."
Nate defines "real" as having a genuine message in his songs, which is similar to his vulnerability. The Search maintains NF's passionate lessons that listeners have come to expect. 
His struggles with mental illness are life-threatening. On "Hate Myself," he pictures himself in Hell, in which he scoffs at his own corpse, saying "you ain't nothin' but poor and weak." 
The negativity of his work is trying to say that you should ignore the bad parts of life and focus on the hope that it will get better. Many people of his fanbase get that; however, it may cause others to fall into a black hole of negative thoughts. 
"Everything that breaks you down can also build your character" — NF, ("Nate")
Nate is often compared to having a similar style to Logic and Machine Gun Kelly, but as of recently, he seems to have risen in the industry with listeners on streaming sites like Spotify, exceeding former "role models" in rap.
The hype for NF is quickly growing. While he can doubt himself and his music at times, Nate shows that he still believes in himself and his content that he creates. He shows the world that he doesn't need to rely on others for his success in music or life.
Nate is one of my favorite artists. The rap has emotions and feelings that I relate to and find that most other music artists can't say, and that is real to me.  His music has inspired me to find hope, even when I am feeling doubt and in a dark place. Through his lines, I find therapy and advice that I need. What is more real than that?