Girls Varsity Soccer Senior Night
On Friday October 14th the girls varsity soccer team played Pelham Pythons in an intense game on Senior Night. From Goffstown, the following Seniors were recognized: #2 Peyton McBride, #3 Olivia Gagne, #4 Alyssa Bourque, #6 Lauren Vickery, #13 Kasey Britton-Doucette, #16 Hannah Kloiber-Bravo, and #24 Kersten Daneau.
Both teams were evenly matched with their stats before this game, the only difference was that Pelham had one tie. The first and only goal of the night was scored 7 minutes into the game and by #10, Lilly Proulx.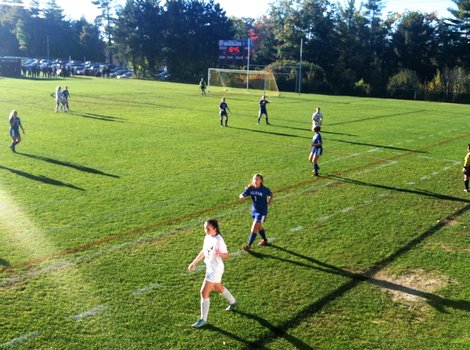 Two varsity players were out because of injuries and 4 JV players were on the bench for this game. Molly Carlson and Steffi Flegal were both up from JV and had several passes. Goffstown took the game 1-0. One spectator observed, "Coach Willey went deep to the bench and kept the lady Grizzlies legs fresh the whole game."