Goffstown High School Teacher Nominated for Teacher of the Year
One of Goffstown High School's favorite teachers, Curt McDermott, is one of four finalists for the Teacher Of The Year Award in New Hampshire, after being a teacher at Goffstown High School for about 15 years.
While McDermott was in college, he did AmeriCorps, a volunteer program. His job was teaching at Hillside Middle School in Manchester. "I liked working with kids and I can make a gig out of this," he realized. After applying, he says that Goffstown was one of the schools that gave him a chance. For the first 14 years at Goffstown, he taught various classes such as English 12 Honors, Video Production Honors, Creative Writing Honors, and AP Language and Composition for about a decade. This year, he decided to switch over to Wood One and Two, and Architectural Drafting and Applications. He's also the Advisor of Goffstown High School's Peer Outreach, Ethics Circle, and is the Director of The GAP Program.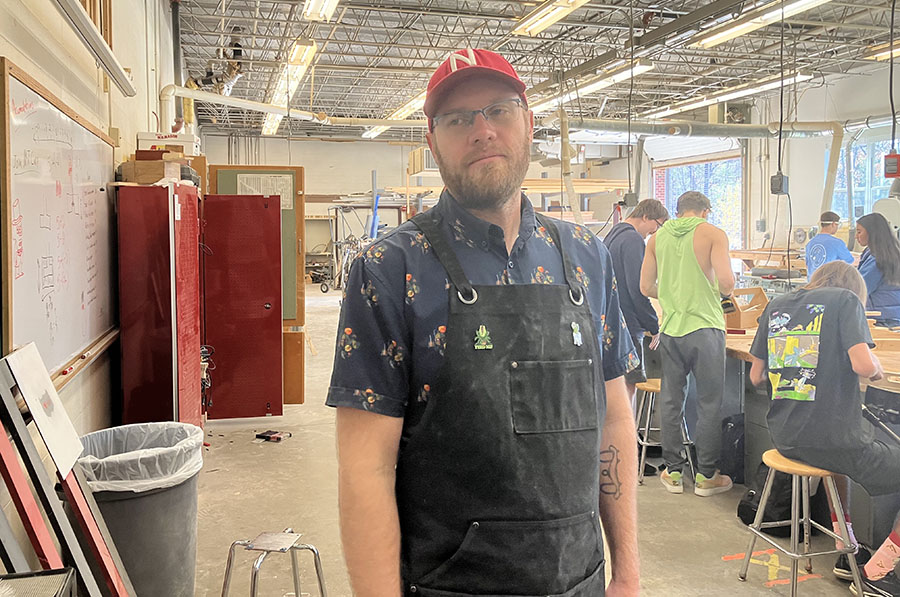 When asked about his nomination, he said that he found out through an email that was sent to him by the state. Every year, The New Hampshire Department Of Education likes to give a New Hampshire teacher the title of "Teacher Of The Year". He still doesn't know who nominated him, and it was apparently a student. He claimed, "I was really humbled and really, uh, awed that someone took the time to think about me and what I was doing was good" when he found out about his nomination.
Faith Morley, a senior at Goffstown High School, took Creative Writing with him her sophomore year, AP Language and Composition her junior year, and Creative Writing Direct Study with McDermott her senior year. Faith enjoys McDermott's sense of humor and bluntness. Faith described his classes as "Interesting. They are very open, and I feel like I have his help. There's never a time where I felt like I couldn't ask him for help."
 She claimed she heard about his nomination in the paper over the summer. When Faith was asked why she thought McDermott deserved this award, she expressed that there were a lot of reasons, one of them being that "he is the only teacher I think I'll remember when I'm in my 60s. And he's one of the only teachers I think I would talk to after I graduate high school." McDermott has helped Faith with her screenplay since her freshman year and has been continuing to help her.
Even though McDermott is not awarded Teacher Of The Year, he still continues to be a favorite teacher at Goffstown High School.