The Incredible Journey of a Teenage Exchange Student
"It feels like being born again"
Warm. Welcoming. Traditional. A picturesque small town surrounded by historical walls, with plenty of colorful, artisanal markets. That's how Oumnia Boubad – a foreign exchange student at Goffstown High School – describes Taroudant, her hometown in the heart of Morocco. Oumnia chose to spend her senior year of high school in a whole different world from what she is used to, so I decided to find out more about it.
Oumnia was very enthusiastic and willing to share her experience with me in the first place. "I autonomously chose to become an exchange student to dive into another lifestyle and see to which extent I can tolerate it" she told me. "I went through a rough time last year, so I wanted to test my ability to stand up on my own and start everything from zero, the way I wished it to be".
Subsequently, my curiosity headed toward the intricate application process for studying abroad. "Students are chosen based on their grades. Afterwards,  everyone has to take an English test and the ones who are chosen after passing it go through a interview and write three essays about the reason why they dream about studying abroad. Only twenty finalists in the whole country are then chosen and I ended up being one of them".
At this point, someone might ask: "Why here? Why Goffstown?" Oumnia explained me that you can choose your host country, but not a specific state or town. "I was hoping to end up in the East Coast, Boston in particular" she confessed, "so you can probably imagine my reaction when the organization informed me about my placement".
Oumnia then opted to tell me about her trip from Casablanca, Morocco to Washington, DC, which she considers her best memory of her year abroad so far. "It was definitely one of the most memorable highlights of my experience, the first plane trip for me and most of my Moroccan friends, and everyone was so excited to leave the continent for onc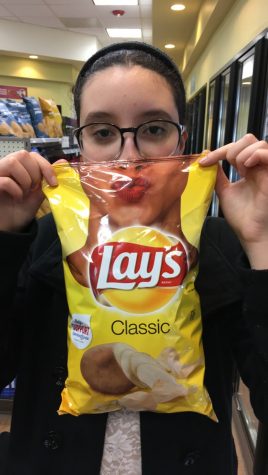 e. We had an incredible three-day orientation in Washington and then I took another plane to get to Boston. I was on my own, none of my friends were heading to my area and my flight was cancelled, so I had to wait at the airport for about ten hours. Nonetheless, I want to remember that moment as a test of my ability to face real-life problems by myself". Undoubtedly something that not everyone her age would be able to do.
When Oumnia landed in Boston, she found her "new" family eagerly waiting for her. She describes it as a "close and amusing family", that enjoys spending time together and traveling around the country. It consists of Reta and Andrew, two busy and loving parents, and two sisters who are in middle school, Lilith and Anna. "My first days with them were very confusing, everything felt incredibly new. Now I got rid of that initial awkwardness and I grew close to every single one of them. They are so easy to talk to, I could not be happier".
And what about Goffstown High School? Oumnia confessed that the American school system is totally different from what she expected. "Students can be way more independent and their manners really confused me at first. They are much more straightforward and outgoing than teenagers in Morocco, so it took me some time to blend in".
Based on her experience here, Oumnia had some advice to share for future exchange students. "My time in the United States has positively changed me" she answered. "I learned that all you need is to be flexible and open to change, and no matter how cliche this may sound, just be yourself".