GHS Presents "In The Heights"
Take a walk through the music wing any day during  December, January or February, and you'll find furniture, wood, tarps, and painted sets in the hallway, costume racks in M-01, and the cast and pit band of the musical working hard on the soundtrack in M-02.  This year, GHS Performing Arts presented In The Heights, Lin-Manuel Miranda's first musical and a 2008 Tony-winning portrayal of the life of a group of first-generation Hispanic immigrants living in the Washington Heights neighborhood of New York.  To better represent the Hispanic cultures of In The Heights in each of their roles, the cast set to work gaining new exposure to these cultures in real life throughout the rehearsal process.
Among their endeavors were listening to music of the culture, trying traditional cuisines, attending an Altagracia Day celebration at St. Augustin's Church in Manchester, and listening to two guest speakers share their experiences as first-generation immigrants.  Despite the differences between their characters' culture and their own, the cast unanimously agreed that In The Heights carries universal themes and stories to which any actor or audience member can relate.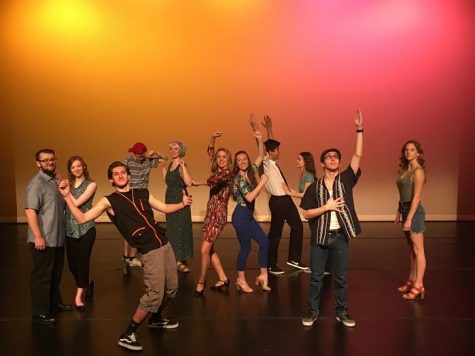 Senior cast member Chloe Castellano, playing Nina Rosario, found that the rehearsal process was "more personal than expected," and "anyone can find something to connect with in this show." Kathryn Duncklee, also a senior and playing Daniela, reported that some cast members, including herself,  "were nervous about portraying these characters and sharing their stories because they are so culturally different. However, as we progressed through the rehearsal process we quickly learned that these stories hit closer to home than we thought. It's very empowering to be sharing such an important message and story to the community." Autumn Hirsch,  a junior who played Camila Rosario, agreed that representing a different culture was at first "intimidating, but with the help of guests and our own knowledge of what a tight knit community feels like we are all able to relate."
Paul Rescigno, a senior playing the lead role of Usnavi de la Vega in the show, commented that the characters of In The Heights seemed "alive" to him.  On the real-world themes depicted in the musical and his experience performing in it, Rescigno elaborated, "We aren't just playing a Disney character dealing with an evil witch. Instead, we are telling a story that many people can relate to. What I've found is that I need to keep that realism the focus of my acting and character development. People in the world struggle, they deal with death, mental breakdowns, family problems, racism, vandalism, assault. It is our job to tell the story that Lin-Manuel Miranda conceived, but we also need to make sure we communicate how real these situations are."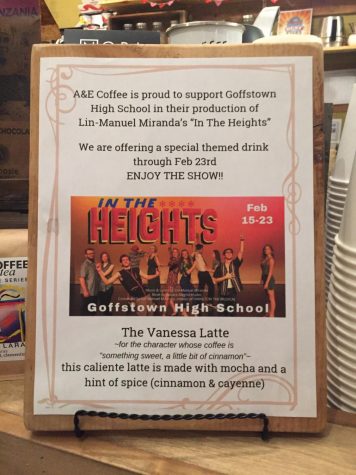 The opening weekend of In The Heights saw a satisfactory turnout and welcomed several alumni back to GHS to support their fellow actors. According to Mr. Desrochers, there was "a really good energy in the audience."  The second weekend proved equally successful, receiving an enthusiastic standing ovation at the final performance. All who attended gave positive reviews of the show, with many people saying it was the best musical GHS has presented to date. Also, a special coffee order was available at Apotheca Flower and Tea Shoppe through February 23, named "The Vanessa Latte" made with mocha, cinnamon, and cayenne pepper.  The GHS Performing Arts Department would like to express many thanks to all performers, teachers, volunteers, and guest speakers who came together to bring the heartfelt story of In The Heights to life.