Goffstown Hockey Team Hits the Ice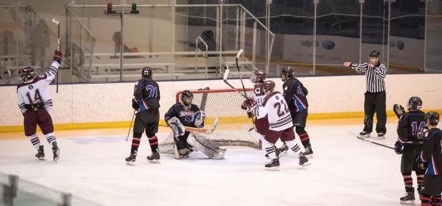 The first period was played quickly. It is the home opener for Goffstown against Oyster River. A few minutes later Colby Wright made a clear pass to Grady Chretien who burst into the offensive zone, behind Oyster Rivers defense.The goal came at 7:39 of the opening period to give Goffstown a 1-0 lead. After the goal, Oyster River have started working together and played crisp the rest of the way. At 11:38 of the opening period Declan Daubney made an amazing save from Drew O'Brien following a gorgeous pass from Colby Gamache. The game was fast pace after a few minutes. The second period opened with Goffstown losing face-offs that led to more scoring chances for Oyster River. James Amorelli made back to back saves at close range to keep the game tied at 1-1.
Nearly two minutes later, Theo Milianes made a perfect pass to Jackson Burke who scored his first career goal at 3:23. This goal would be the eventual game-winner. The Grizzlies were holding a 3-1 lead despite being outshot 20-16 overall. The third period started and it was clear that Oyster River was going to finish this game with both barrels blaring. Goffstown wouldn't get a shot on goal until the 9:14 mark of the period. Grizzlies ended the game after Oyster River slowed down their stamina and Goffstown emerged victorious with a  3-2 score.
This year's Varsity Hockey team has been on a roll from the start of the season on December 4th, practicing extremely hard and bonding as a team. The hockey season take a toll on A lot of these players but has been paying off in their season. James Amorelli a sophomore at Goffstown and a starting goalie for the team discussed about the practices and what goes into making the team better. He said, " practices are usually 5:45 in the morning or at 7:00 at night." This means the athletes have to get up extremely early in the morning and later go to school or stay late at night in the den.
Colby Gamache a senior and caption of the team added his word on the first game against Oyster River. He said, "The first game went pretty good, but we need more shots and focus on helping our goalies out in the future." Colby's position was told to be center so he reflected on if he thinks the offense or defense is better. Colby said, "Personally I feel like our defense and offense are just as equal because on any given night the defense could be on fire, whereas offense can't generate anything and that's just the reality of it."
As a student in the stands, it's good to know which games are going to be the most interesting and intense to see. A question that came up was, overall how hard will the competition be this year, and James replied, "I mean yes the completion is hard since we are mostly a young team but when we work hard we can beat any team." This applies to any sports team at Goffstown since we have a good variety of good student athletes. Goffstown record as of now is 7-2 with one loss being from Keene and Windham. Colby added before the game against Keene, that "I definitely feel that Keene is the hardest team to play against in all of D2." Though it was a tight scoring game, 3-4 it was their first loss of the season.
Colby Gamache said how it really feels being a senior and a caption on the team. Colby said, "being one of the 4 seniors comes with a lot more pressure with being the one everyone looks up to but it adds more emotion to each game and creates more intensity." Before the season ends students should stop by a game and experience the game up close.The schedule is always online and games are played every week until the last game as of now on March 3rd. James ends with, "The fan section is amazing I love enthusiasm everyone has, it would be great if we could get more people there!"